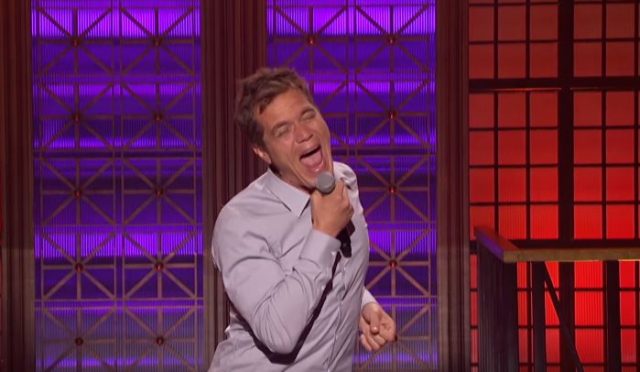 Lip Sync Battle has featured a lot of entertaining celebrity match-ups since it first premiered, but this Thursday's battle may be one of the show's most interesting and unexpected ones yet. In this week's Lip Sync Battle, Michael Shannon, who most famously played Nelson Van Alden on HBO's Boardwalk Empire, takes on Crazy Ex-Girlfriend creator and star Rachel Bloom.
Unlike most contestants, Shannon and Bloom aren't on the same television show or in the same movie; in fact, the two shows that they were/are on couldn't be more different. However, with Bloom's natural musical talent (she does her best work with the song-and-dance numbers on Crazy Ex-Girlfriend) and Shannon's incredible commitment to every wacky project he takes on (I still laugh thinking about his role in The Night Before), they both should bring a similar, fun energy to this week's episode.
Watch a sneak peek of Michael Shannon's version of The Pixies "Here Comes Your Man" in the video below:
Also, once you're done watching Shannon's performance, check out a snippet of Bloom's zit-covered cover of Katy Perry's mega-hit "Teenage Dream" below:
Lip Sync Battle is hosted by LL Cool J and Chrissy Tiegen and airs Thursdays at 10 p.m. on Spike. Comment below with who you think will win this week's battle: Michael Shannon or Rachel Bloom.
[Photo via YouTube]