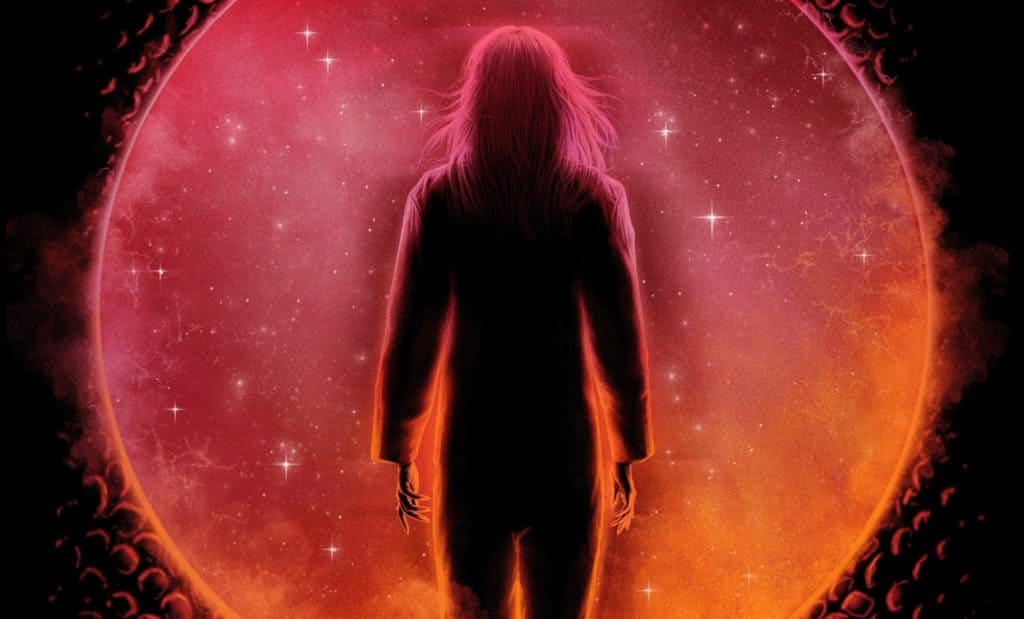 Cult movies certainly have a different feel to them, especially since if asked, many former cult members could tell people stories that would make their blood run cold when it comes to how persuasive cult leaders can be and how difficult it is to leave a cult once one has joined. The idea of joining a UFO cult feels as though things would be taken to another level that might make it even more difficult to hold onto whatever shred of reality the cult might embrace. Cosmic Dawn deals with the life of a woman who witnesses a UFO abduction when she's younger and ends up joining a UFO cult when she grows up, as the group spends their time on a remote island compound exploring one revelation after another with what appear to be psychotropic flowers and other substances that make those who share the compound see things and experience moments of euphoria that allow them to believe that they are exploring the mysteries and puzzles of the universe. The only problem is that with cults, there's always a failsafe if the cult leader finds themselves losing control. 
In some cases, it's lying to the others within the cult and telling them that one of their own wasn't a true believer and had to be let go, which could mean quite a few things. But when the main character, Aurora, becomes her own person later on after the dissolution of the cult, she begins to question whether Elyse, the cult leader, was truly insane or if she'd been right all along. In essence, this sounds like a movie that is about the complex manner in which cults operate and how they hook people and then make them believe whatever they need to in order to keep them around. The reality of a cult is that people join because they need something that they might otherwise be lacking in their lives, and many cults know how to feel out that person and find out what to offer them in order to bolster their numbers and find another 'believer'. 
The combination of UFOs and cults is something that has happened before and has been covered quite a bit in the news when it does become an issue or an oddity or both, so in that regard, Cosmic Dawn might actually be something worth looking at since the subject is something that many people have been interested in over the years and something that could offer up a great deal to discuss. In terms of actual abduction and the effect that it's had on people who believe that this has happened, it's easy to think that the subject has remained interesting enough that it will be able to pull people in and give them another experience that will be worth remembering later on. The fact that this is something that people deal with in real life does make it necessary to at least take the movie a little bit seriously since such cults have been around long enough to be worth talking about, especially since many cults have been known to be experiences that have altered many lives in a number of different ways that stem from the practices that have taken place.
The interest in UFOs kind of comes and goes from time to time, but the fact is that aliens are almost always popular on a year-round basis, meaning that the fact that Cosmic Dawn is going to be appearing in February shouldn't be too much of an issue since the fact is that introducing a new UFO movie to the audience is bound to depend more on the overall story and everything that goes into it rather than the genre. There are likely many people who would argue with this, but it's not hard to take a look at the release dates for various movies that deal with UFOs, cults, and similar stories to see that the intriguing nature of such movies makes it possible to enjoy such stories at just about any time of the year. Looking at the synopsis and at the trailer does give one the sense that there will be just enough difference to this movie as opposed to many other cult movies that will allow it to stand apart from other cult movies in an attempt to make it a little easier to differentiate. 
The fact is that cult movies have been seen, UFO movies have been seen, and both of them have been produced over and over again over the years in a number of ways that have entertained and sometimes turned off the audience depending on the overall subject and how it's presented. Cosmic Dawn does look like it might utilize a few of those elements that will attempt to get viewers interested enough to hear the story out, but it could also be that the movie will have people talking about it when all is said and done.