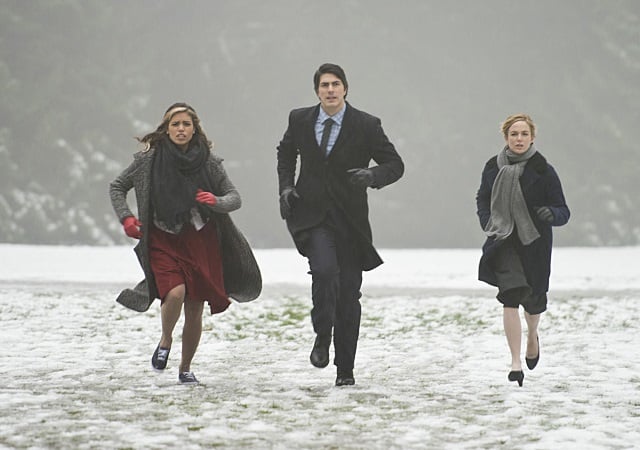 After a short hiatus, Legends of Tomorrow returned with one of its strongest episodes ever as they pick up right where we left off with Ray, Sara and Kendra being left behind by the others.
I'm just going to start with the one negative thing in the episode which was the return of Ra's al Ghul. The biggest problem with Matt Nable's version of the character when he was on Arrow last season was that there was nothing intimidating about him which is one of the character's key elements from the comics. So seeing him on this show instead, in the past, didn't really change my viewpoint as he continued to be just as stiff. Also the random introduction of Talia al Ghul didn't do much either, unless Nyssa at some point actually references what happened to her big sister.
Aside from that, pretty much the rest of the episode worked really well. They handled the Ray and Kendra relationship really well and it's becoming one of the better relationships on this show. Just like any couple in the DC TV Universe, they have their obstacles, but at least they handle it better here and they are just genuinely cute to watch. Although knowing Ray's bad luck: Carter is somehow going to get in the way, whether he remains dead or appears as a version from a different timeline because let's remember: this show is all about time travel.
While the reveal that Chronos was actually Mick Rory from the future wasn't the biggest surprise ever, this was one of the best consequences that this show has given their characters so far. Cold's decision a few episodes ago would have a big price and this was it which I really appreciated. Because Mick is the way he is, it only makes sense that he would be willing to work for the Time Masters and wanting to take down this group. While I'm curious to how they are going to get Mick back to "normal" (I never thought Mick and normal would ever be in the same sentence), I'm glad he is back.
Sara's return to the League of Assassins turned out to be better than I imagined because it says a lot about her character that she returned to the one place in the world (at that time) that was pretty much hell. I like that Kendra was the one to get through to her in this situation. The fight with all of the heroes going up against Chronos was one of the most visually stunning fights this show has had so far. The only thing that I wish had happened just once throughout all of this was Ra's giving some funny reaction to time-travel, flaming men and flying women. But instead of that, he just reacted as if he was seeing this every day.
Overall, "Left Behind" was a strong returning episode as we get deeper into the second half of the first season. Although I was surprised (even though I shouldn't have been) that Snart got a new hand after having to destroy it to get out of those cuffs. But hey, I don't mind that he has both his hands because it would be weird to have a Captain Cold with just one hand.
Legends of Tomorrow airs on Thursday nights, 8/7c on The CW
Summary
Chronos' identity is finally revealed while Ray, Sara and Kendra must deal with being left behind in the 1950s in this week's Legends of Tomorrow.