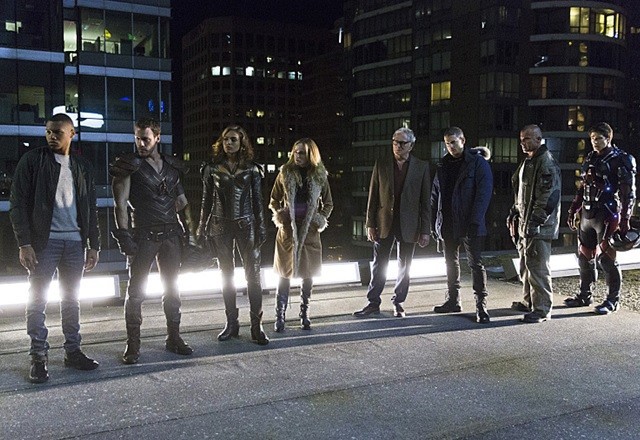 The wait for one of the most anticipated new shows of the 2015-2016 TV season has finally ended as CW launched Legends of Tomorrow with a stellar pilot (part 1) as Rip Hunter enters the DC TV Universe to recruit beloved heroes and villains for a big mission.
The one concern I had for the series premiere was whether or not they would be able to give everyone enough focus since this is a big cast that we are following. Luckily, "Part 1" gave each of them enough focus to make me happy. The only new introduction we get is the character of Rip Hunter whose backstory is tragic and yet deliciously mysterious. Seeing Arthur Darvill in this role made me think of a more grown-up version of his character from Doctor Who, Rory, and he brought a lot of complexity to Rip who tends to be quite complex in the comics from what I understand.
As we have been seeing on all of Greg Berlanti's superhero shows, each of them has a very distinct theme from each other, and Legends of Tomorrow sort of brings all those distinct themes together, but also add something new to it at the same time. While they weren't in it for too long, we got two amazing scenes featuring Arrow's Green Arrow and Black Canary as Ray and Sara asks them for advice on whether to accept Rip's invitation. I think my favorite of the two was definitely between Laurel and Sara because we have sort of needed to have a scene like that between them.
The biggest twist that I did not see coming at all was the real reason why Rip recruited these particular heroes and villains. Instead of being legends in the future, he reveals that they have very small effect in the history and that's why he could borrow them without disturbing the timeline. This actually makes me more invested in the show because instead of knowing that their future is already set in stone, they now actually get to fight to get to create a legacy like that. With a title like Legends of Tomorrow, you assumed that they had this future already set for them, which is why I loved the twist so much because it makes it less predictable.
I was however letdown by the fact that we didn't get to see much of Vandal Savage as we kept hearing more of him as opposed to being actually seen. But for the amount of screentime that he had, he was perfect, especially with the opening as he kills Rip's son and wife. We do, however, see another villain who is also from the DC Universe, Chronos which I didn't see coming, mostly because I had no idea who I was looking at when the trailer came out featuring that character. While we got a lot of action in the episode, there were more emotional beats and seeing the characters actually come to accept the bitter truth about their future, but then deciding to truly take control of it.
Overall, while it would have been better to have made this a two-hour premiere, "Pilot: Part 1" was a solid opener to this new exciting DC TV show that has me hooked in and I can't wait to see where this show is going in its first season.
Legends of Tomorrow airs on Thursday nights, 8/7c on The CW.
[Photo credit Jeff Weddell/The CW]
Legends of Tomorrow Season 1 Episode 1 Review:
Summary
Rip Hunter (Arthur Darvill) recruits heroes and villains of the CW DC TV shows in the solid premiere of Legends of Tomorrow.