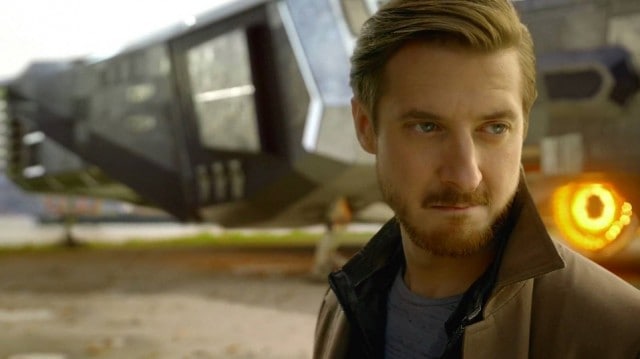 At the beginning, Rip brought a lot to the show: the entire Vandal Savage mission, time-traveling skills, and weird déjà vu for Doctor Who fans. But now, after eleven episodes, he's no longer necessary to the team — and, in fact, detracts from it.
His personality isn't as developed as the others'. We know only a few things: he's selfish (he considers killing Per Degaton for his family), he conceals facts, and he loves his family. His speaking style pales in comparison to the other characters': Snart has a distinctive, sarcastic voice, and Professor Stein has a formal, awkward one (that Jax and Sara poke fun at in "Progeny"). Rip's voice isn't distinctive: he barks out orders and misses his family, but we can't really guess his sense of humor or what excites him.
Rip is also detached from the team. We occasionally see his social interactions with teammates, but they aren't as common as scenes featuring Sara's and Snart's mutual sarcasm, Professor Stein's awkward advice to Jax, or Ray's relationship with Kendra. And the few scenes where Rip does interact feel artificial. When Rip took Ray's place in the duel last week, it didn't feel like a man risking his life for a dear teammate — or even a man paying debt to a previous friend. It just felt random… which it kind of was, since we've never before heard of Rip's time in the wild west or Jonah.
Rip is not only disconnected from the team; he's also disconnected from the audience. As a viewer, I didn't feel my heartstrings pulled during flashbacks of Rip laughing with his wife or watching videos of his son. I certainly did, though, when Snart abandoned Rory, Ray hid the engagement ring, and Snart and Sara almost died. And that makes sense — why should we feel anything about Rip's loss when we hardly know him as a character?
Conveniently, too, the team doesn't need his leadership anymore. They're already deciding what being a "legend" means, without his help: Professor Stein cures H.G. Wells and Ray protects Jonah's town. The motive to kill Vandal Savage still exists without him because of Kendra; she certainly has enough anger to go around. As long as Rip passes his Waverider "keys" to someone else before he dies, he's totally unnecessary.
In conclusion, Rip was a great tool to help set up Legend's premise, but since then has both failed to develop as a character and connect with the audience — and should be killed off. Sorry, Rip, it isn't personal (I barely knew you).