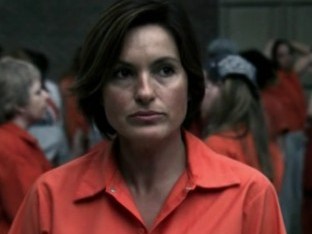 Fans are getting excited for the new fall TV season, which will be starting in just a few weeks. NBC will be bringing Law & Order: SVU back for an incredible 19th season. With over 400 episodes having already been broadcast, you may have your own favorite moments featuring Benson, Stabler, or another one of the dedicated detectives that have graced our screens since the premiere back in 1999. We at TV Overmind took a look back through 18 seasons of this drama and picked our 5 favorite undercover moments (in no particular order). Did yours make the list?
1. Olivia and Elliot Make a Cute Married Couple
Some Law & Order: SVU fans shipped the relationship of detectives Elliot Stabler and Olivia Benson. We were treated to a moment where the two went undercover in a sex club as a married couple looking to explore within their relationship. This was one of the last episodes that Christopher Meloni starred in before exiting the series at the conclusion of season 12. Here is a promo for the episode:
2. Olivia is a believable Hooker
In order to catch an animal smuggling ring, detective Stabler must go undercover on this season 10 episode of Law & Order: SVU. Things at Stabler's home don't look too swell as Elliot doesn't tell his wife Kathy that he needs to go undercover. Olivia tries to assist and comforts Kathy. Olivia then proceeds to go to Elliot's mock apartment to see if he is okay. She quickly needs to make up her own cover story when the animal smugglers show up unannounced. Check it out:
3. Prison is a Scary Place
Olivia Benson proved how scary prison really can be for some inmates on the season 9 episode "Undercover" of Law & Order: SVU. She is an informed that a teenage girl has been raped by a corrections officer. That same man is hurting her mother too. Olivia goes undercover as a prisoner to find the perpetrator. Finn joins her in the prison as a security guard. This close call caused Olivia to start seeing a psychiatrist to deal with almost being raped.
4. Olivia Swings Both Ways
When Elliot vacated his detective duties at the conclusion of Law & Order: SVU fans did not know if producers would be able to replace him. Then detectives Amanda Rollins and Nick Amaro entered our world. During her first year on the squad, Rollins was able to go undercover at a sperm bank and have Benson as a wife! You can watch a preview by clicking here.
5. Carisi Can Handle Undercover as Well
Detective Carisi joined the Law & Order: SVU team during season 16. And like his fellow detectives, he was also able to experience life in the undercover world. In the season 17 episode "Sheltered Outcats," Carisi enters a homeless shelter to find out if one of the residents is the suspect of several rapes in the neighborhood. Check out this clip:
https://www.youtube.com/watch?v=vUOrUk1P2Ag
Which undercover moment from Law & Order: SVU is your favorite? Let us know in the comments section below.
Photo by: NBC
Save
Tell us what's wrong with this post? How could we improve it? :)
Let us improve this post!