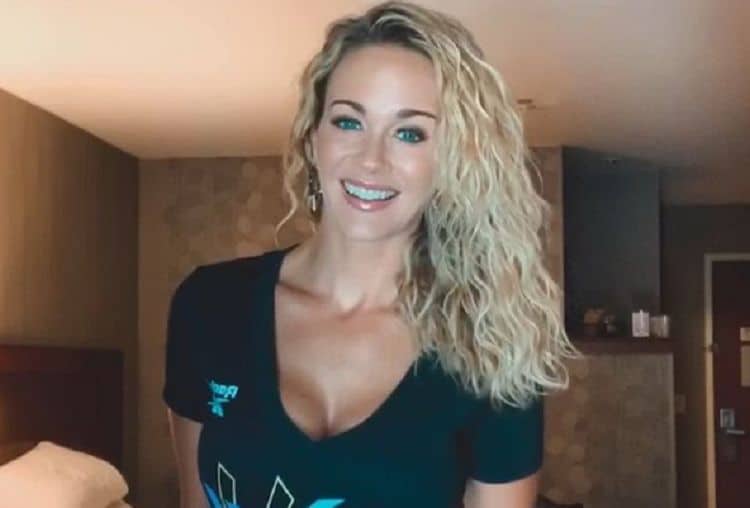 Laura Sanko has a pretty face and a gorgeous smile, but don't let that fool you into thinking she's soft. Sanko is a trained fighter and a fierce competitor who started her professional MMA journey in 2013. Her debut professional match against Casey Robb ended with Laura as the winner. However, after a short lived career she decided that she wanted to see what the media side of the sports world had to offer. She currently works for ESPN and has plans to furthre her career in the media world. Laura's journey is proof that it's never too late to change lanes and go after the things you really want in life. Continue reading for 10 things you didn't know about Laura Sanko.
1. She Has A Degree In Business
Getting an education is something that has always been a priority in Laura's life. According to her profile on LinkedIn, Laura attended William Jewel College in Missouri where she graduated with a bachelor's degree in business administration and entrepreneurial studies in 2005.
2. She's A Devoted Mother
Laura has accomplished a lot of things over her life, but nothing means as much to her as becoming a mother. She and her husband, Nathan, have an adorable son together. When Laura found out she was pregnant with her son, she decided to retire from her professional fighting career.
3. She Has Her Own Company
While many people struggle to find jobs in their field after college, Laura has been putting her degree to good use. In 2012, she started a company called Grassy Pants Beef, LLC. According to Distractify, the company sells grass fed and hormone free steaks. We were unable to locale a website or social media pages for the company.
4. She Was Raised In A Very Conservative Home
Laura is a midwestern girl who was raised in Kansas. She came from a fairly conservative family that placed a lot of emphasis on religion. As you can imagine, a career in fighting isn't what most conservative parents have in mind for their daughters. Luckily for Laura, she was already in her mid 20s by the time she decided she wanted to start fighting, so there wasn't much her parents could do at that point. She said, "I got into MMA because i was going through a tough time in my personal life and needed a way to distract myself from the stress."
5. She's Worked With Several Brands
Laura's work in the fighting world has made her very popular on social media. She has 40,000 followers on Twitter and 128,000 on Instagram. Her highly engaged following has made her an attractive partner for companies and she has gotten the chance to work with several brands including Eat to Evolve and Direct Hemp.
6. She's Still Very Active
Her days as a competitive athlete are behind her now, but that hasn't stopped Laura from training. She is still very active and addition to doing regular work outs in the gym, she also works with a fighting trainer. While it's highly unlikely that she'll after step back in the cage as a fighter, it's something her fans would love to see.
7. She Got Involved With Karate As A Child
Even though fighting wasn't something she always saw as a career option, Laura developed an interest in martial arts at a very young age. After seeing the movie Karate Kid, she knew that karate was something to be involved in. She trained for several years and eventually became a black belt.
8. She Plays Piano
Punching people in the face and holding microphones aren't the only thing Laura's hands are good for. According to MMA Junkie, she is also a trained pianist who practiced for many years. She even planned on going to college to study piano performance before decided on business.
9. She Grew Up Riding Horses
Spending time outdoors is something that Laura loves. She has a deep appreciation for animals; especially horses. Horses have always been a big part of Laura's life for as long as she can remember. She grew up riding and training horses continued to ride regularly into adulthood. Sadly, her busy schedule has resulted in her no longer being able to ride as often as she wants.
10. Her Goal Is To Be The UFC's First Full-Time Female Commentator
Laura is enjoying her career on the media side of sports, but there's one thing she really wants to do before it's all said and done. Laura wanted to become the UFC's first ever full-time female commentator. She believes she has the knowledge and skills to get the job done, and she knows the fans would love to see her in the role.