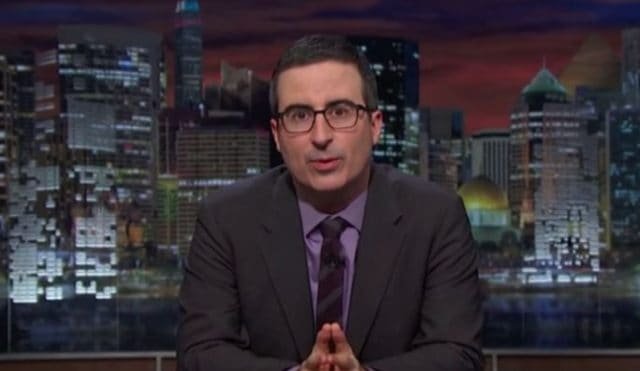 During the opening moments of last night's episode of Last Week Tonight, John Oliver took some time to talk about the tragic events in Orlando, where the most deadly shooting in U.S. history took place on Sunday Morning at a gay nightclub called Pulse. Oliver didn't use the opening minutes of his show to criticize political leaders or emphasize the need for stricter gun control laws. Those would have been completely valid and understandable reactions to this situation; however, instead, Oliver was just honest about the pain that we're all feeling right now, and he tried to focus on the heroes that emerged from this terrible situation.
"Look, it's still early and details are still emerging, and right now, this just hurts," Oliver said. "And the worst thing is that this pain is so familiar."
Oliver compared the Orlando shooting to the terrorist attack that took place in Paris. He mentioned how these terrorists target locations that represent our culture, and that through their violence, they attempt to take away what's great about our countries.
And instead of focusing on the gunman and his "brutality and hatred," Oliver showed video of the hundreds and hundreds of people that lined up in Florida to donate blood. All of these individuals came together yesterday to do some good after a horrific event that can only be described as pure evil.
"It kind of reminds you that that terrorist dip*** is vastly outnumbered," Oliver said about the video of those donating blood.
See John Oliver's full comments from Last Week Tonight in the video below:
[Photo via YouTube]
Tell us what's wrong with this post? How could we improve it? :)
Let us improve this post!