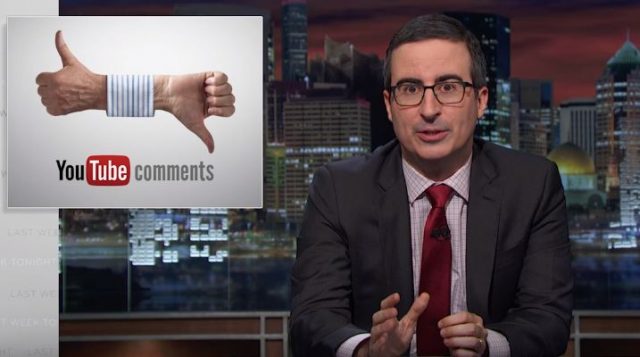 Last Week Tonight is regularly one of the funniest, most relevant, and most important shows on television. However, with the main show being on a brief hiatus until Sunday, July 24, John Oliver is utilizing some of the web exclusive content that the HBO series produces to be a bit lighter and goofier. Instead of creating a biting, revealing, and informative 20-minute long segment about a topic that very much needs to be discussed, Oliver devotes four minutes in the video below to reading the Last Week Tonight fan mail he receives, otherwise known as YouTube comments.
Yes, as Oliver states, the old version of fan mail doesn't really exist anymore. Instead, it's all about what entertainers see in the YouTube comments, or as Oliver calls them, "the most cogent written argument for never learning how to read." In the video below, the Last Week Tonight host picks out his favorite YouTube comments that the show has received, some of which are hateful and others that are oddly nice, including at least one person calling Oliver's eyebrows "magnificent."
Of course, not all of the YouTube comments are that friendly. Oliver also reveals that one viewer said he looks like "a mix of a Pokemon and a child molester," while another called him an "unfunny, live action Beaker," a joke so good that Oliver's upset that he didn't come up with it himself.
Despite all of those colorful and hilarious comments, though, there's one in particular that stands out as the best for Oliver. To find out exactly what this person said to him, check out the video below:
As John Oliver mentions in the video above, Last Week Tonight returns to HBO on Sunday, July 24, at 11 p.m. Comment below with what your favorite piece of "fan mail" from the clip was.
[Photo via YouTube]