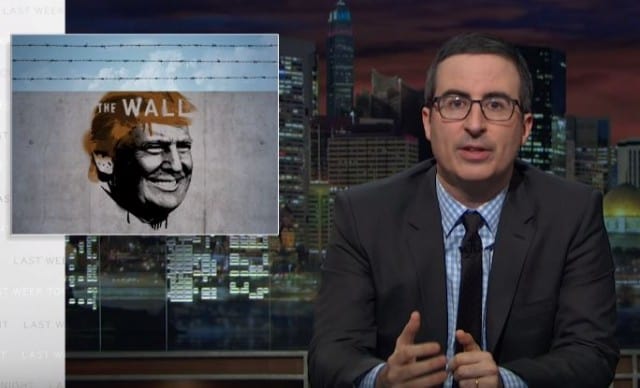 John Oliver has already proven why we need to make Donald Trump "Donald Drumpf" again, but on last night's Last Week Tonight, the host dedicated an almost 20-minute long segment to discussing a particular promise that the Republican presidential candidate has been making ever since he first began his campaign. What promise is that? Well, that Trump will build a wall on the border between the United States and Mexico and somehow get Mexico to pay for it, and as Oliver points out in the video below, not only would this potential project be risky and costly, it would also be highly illogical.
When dissecting Trump's plan last night on Last Week Tonight, Oliver chose to put aside the racism and xenophobia at the start of his segment (but of course, he rightfully brought it back up again at the end) to focus on the cost of Trump's proposed wall plan. So how much will Trump's wall on the border cost? Anywhere from $4 billion to $12 billion, at least according to Trump, who can't seem to stick with a number. However, as Oliver breaks down the actual numbers, he estimates the construction and maintenance of the wall would realistically cost more than $25 billion, which is more than double Trump's highest estimate.
But if the price tag attached to building the wall doesn't bother you, maybe its ineffectiveness will. Even though Trump claims that the wall will be at least 30 feet high, as people have pointed out, that won't stop individuals who want to get over it from doing so, as they could utilize several different methods to hop over, including simply buying a taller ladder. Even Trump himself suggested that people could use rope to help themselves climb down from the wall once they've reached the top, and if it seems so easy to find a way to hop over the wall, then why build one anyway?
And if all of that still doesn't bother you, then let's get back to the racism and xenophobia that Trump is promoting, as he claims that the majority of Mexicans are drug dealers, rapists, and killers. However, reports from as recent as 2013 find that immigrants are less prone to crime than their native-born counterparts, so despite the message of hatred that Trump is pushing, the facts don't back up what he's saying at all (but is that really a huge surprise?).
Watch John Oliver tear down Donald Trump's proposal for a wall and suggest a more fun, alternative way that we can waste all that money in the Last Week Tonight video below:
[Photo via YouTube]