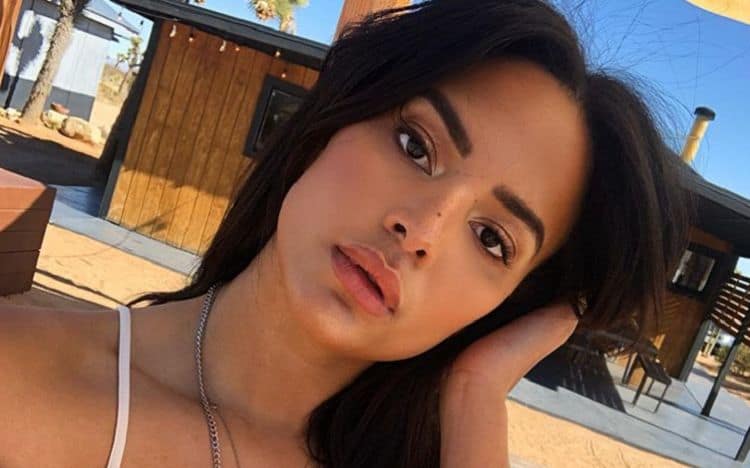 You may recognize the name Kyra Green. She's on this premiere season of Love Island, but that's not the only place you've seen her around. Kyra is a model for LA Modeling so you might know her from photos. However, she's also a musician. She was on America's Got Talent when she was only 16 along with her band 212 Green. The overly talented Kyra has plenty to offer a reality show, but there are some surprises in store as well. In fact, she might be the most controversial player that the American version of the show has ever seen. We've collected a few fun facts to share with fans of this flirty, vivacious gal.
1. 212 Green is Still Going Strong
When Kyra debuted as a musician, she was barely old enough to drive. 212 Green didn't win season eight of America's Got Talent, but they made a splash. They all live in the L.A. area now, and the soul-pop band is still together. It's hard to make it as a musician, and it was a long move from Harlem, Manhattan, New York to get there, but well worth it since Kyra can help get their name out better while she's on Love Island.
2. Family Business
Did we mention that 212 Green is a family band? Kyra and her sister Tori and brother Riley love to play together. Clearly, there's a strong bond for the three, and growing up together gives them a whole lot of history. We enjoyed their rendition of Adele's Rumour Has It when they were onstage at AGT. Hopefully we'll be hearing more about this sibling act soon, but for now, Kyra is busy with Love Island.
3. Bisexual
If you look at her Instagram Kyra212Green, it's not as though she's hiding anything, but it may come as a surprise to some that she's an open bisexual. Kyra appreciates being able to be herself and feels that people should be open and unapologetic about who they are. We can dig that vibe. She can be seen rocking rainbow nail polish or kissing the occasional girlfriend on her feed. What you won't see are very many pictures of her cuddled up with the guys. We don't speculate or put people in boxes, but we do notice the details. Could that mean an even steamier Love Island than originally anticipated? It will be an interesting season with Kyra to be sure.
4. A Little Dark
" I'm a little dark, like Wednesday Addams." –Kyra. We may see her most often rocking a bikini or a microphone, but Kyra isn't all sunshine and sparkles according to her. She says she has a dark side. That's a hard thing to verify, but any girl who knows her Addams Family references gets a thumbs up in our book. We'll have to look out for the more sinister side of Kyra as the season progresses.
5. Loves Weirdos
As she said herself, Kyra isn't into the stereotypical guys. She doesn't enjoy spending time around the sort of men that spend more time talking about and looking at themselves than they do anything else. She probably gets plenty of that at work. Instead, she looks for the quirky, open, and downright strange individuals. "I'm excited to meet the dudes. I'm hoping there are some weirdos in there," she told People in a recent interview.
6. Family Origins
According to Kyra, the reason she looks for such outstanding individuals and feels so comfortable in her own skin is her family. She describes her parents as hippies. Being allowed to express yourself obviously rubbed off on all the Green kids and made them closer as a group. In case you're wondering where they get their striking good looks, their father is African American, and their mother is of Russian descent.
7. Starting Young
Kyra isn't the only model to start her career very young. Brooke Shields famously modeled for Calvin Klein jeans when she was underage and sparked a controversy when she spoke the catchy phrase, "You know what comes between me and my Calvins? Nothing!" Kyra was noticed at age 13 and has been modeling ever since. She even modeled for Victoria's Secret Youth line Pink. While it's not the controversy it once was for younger tweens to be scantily clad, it's still a very early start.
8. Not So Secret Crush
Almost everyone has a celebrity crush. Some are more obvious than others, and Kyra adores Johnny Depp. She's certainly not alone in that, but she has a particular favorite Johnny Depp character, and it's probably not who you think. Kyra loved Johnny best in Crybaby. Sobbing in a leather jacket isn't your stereotypical crush moment, but Kyra likes her guys openly emotional and more than a little odd.
9. Net Worth Unknown
We tried to find good info on her wealth, but Kyra knows how to play some things close to the vest. Doubtless, she's made her share of cash over the years, but she's not sharing the details with anyone. We think that's a very smart move. If she doesn't find true love on Love Island, no doubt this singing, dancing, modeling reality TV star will be beating off the gold diggers with a stick.
10. Sweet But Not Defenseless
The great thing about fame is being able to use your name and status to advance causes you care about. Kyra likes to volunteer with charities when she can, and she'd like to meet someone she can share that passion with. The flip side of fame is putting up with some serious issues. Paparazzi, stalkers and just insistent fans can be trouble, but Kyra knows how to handle herself. She has spent time learning to box and doubtless as a middle child knows how to handle herself.
Final Thoughts
The only thing cooler than an openly bisexual model who doesn't like cocky abusive men, sings, gets along great with her family and spends time doing charity work is when the same amazing young woman can also defend herself. Kyra is the whole package, and we'll continue watching her career grow with great interest. For now, we'll just enjoy watching her throw a wrench in the works at Love Island. We'll be rooting for her, and now that you know a bit more, maybe you will too. Let us know who your favorite Love Island(er) is this season in the comments.