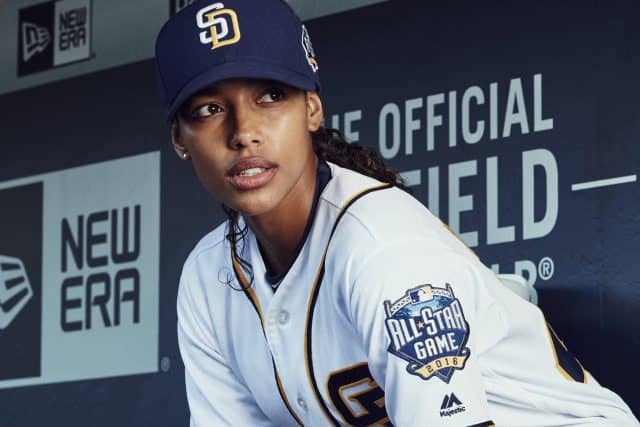 Many believe that today's television programming offers greater quality and variety of shows than ever before. The effects of greater popularity for TV shows are numerous, including better funding, better production, and bigger stars heading for the small screen. As well, the variety of popular shows has allowed the industry to become more important in the public consciousness.
This importance has allowed several shows, such as Orange is the New Black and Queen Sugar, to pave the way for greater diversity in the industry. One show that has continued this trend is Pitch, starring Kylie Bunbury. In the show, Bunbury portrays Ginny Baker, the first ever female pitcher in the MLB. She plays for the San Diego Padres and is known for her exceptional screwball pitch.
The role has garnered Bunbury a great deal of praise from critics and fans alike, with many stating that it is likely her breakout performance. Her character has been singled out as a powerful example for young women, especially as the show highlights both her successes and her failures. This makes the character more well-rounded and relatable.
Although the show is quite popular, and Bunbury's performance in the lead role has received a great deal of attention, she is still a fairly new face in the spotlight. While some may recognize her from her smaller roles in the past, many people are unaware of the upbringing and personality that makes Bunbury so well-suited to her role on Pitch. Here are ten interesting facts about the actress.
10. She has a diverse family history
Leading the cast in a network series is doubly powerful for Bunbury, who is of course both a woman and a person of color. However, most people are not aware of just how diverse her heritage is.
Bunbury's father is Guyanese-Canadian, while her mother is Polish and Swedish. This means that many different cultures come together to inform Bunbury's background. This includes South American, North American, European, and Scandinavian.
9. She has lived all over the world
Not only have various cultures influenced Bunbury through her heritage, she has also experienced quite a few regions of the world first hand. She was born in Canada, but spent a couple of years in England as a child. As well, she would spend seven years on Madeira, an island in Portugal.
Perhaps most importantly, she grew up in Prior Lake, Minnesota. She has stated that this is the place she calls home. However, it is clear that Bunbury's experience with different cultures has given her a unique and informed perspective of the world.
8. She did not initially pursue acting
Although it may seem strange, given that she is now the lead in a popular network television series, Bunbury initially had different aspirations for her career. Before becoming an actress, she worked as a model. Luckily for her fans, her modeling agents suggested that she try acting. This led to her early performances in Days of Our Lives, Prom, and The Sitter.
7. Her father was an elite soccer player
Performing in front of spectators may be a skill that was gifted to Bunbury through genetics, as her father was a professional soccer player. Alex Bunbury had a long and successful career playing in several different countries. Perhaps most notably, he played two seasons with the Kansas City Wizards of the MLS.
He was given a great honor for his career in Canada, being inducted into the Canadian Soccer Hall of Fame and Museum in 2006.
6. Her brother is a professional soccer player
The Bunbury family has no shortage of remarkable and successful members. Just as his father did, Teal Bunbury (Kylie's brother) plays professional soccer. He currently plays for the New England Revolution of the MLS.
Kylie has stated that Teal's ability to continue working hard after reaching a high level in his profession has inspired her to improve her acting each day.
5. Kylie Bunbury Net Worth
While working on the popular series Under the Dome in 2015, Bunbury's net worth was estimated to be around $300,000. The bulk of this sum was likely earned through her acting performances, although she had done some modeling in the past.
Taking a leading role in a highly acclaimed series like Pitch will certainly contribute a great deal to the actress' already impressive net worth.
4. She tried out for American Idol
It can be difficult to imagine a successful actress like Kylie Bunbury pursuing any other line of work, but she has made efforts to branch out in the past. One notable example was when she tried out for Season 6 of American Idol. Although clearly talented, Bunbury was cut from the show during the Hollywood round.
While probably painful at the time, this setback allowed Bunbury to become the popular actress that she is today. It is inspiring to see an individual find such great success after tasting failure in a different industry.
3. She can relate to her character
Bunbury is not just playing the role of Ginny in order to increase her fame and fortune; she truly feels connected to the character. This is for several reasons, not the least of which is the fact that both Ginny and Kylie are emerging stars who are just beginning to taste fame.
As well, Bunbury has stated that she feels like she understands what the character is experiencing. Despite all the media attention, both Ginny and Kylie are simply devoted to improving their craft. Ginny is focused on becoming the best pitcher she can possibly be, while Kylie has the same goal with acting.
2. She is very athletic
In order to play the role of the first ever female pitcher in the MLB, it was essential that the actress be highly athletic. Luckily, Bunbury fits that description very well.
Growing up, she played a number of sports, including soccer, basketball, and track. Ironically, one of the few sports that she did not play was baseball. In order to develop the skills necessary to give a convincing performance in the show, Bunbury trained 3-4 days a week, honing her baseball skills. This type of devotion has paid off tremendously in her outstanding work.
1. She can actually pitch
While her profession is essentially involves being paid to pretend, Bunbury has the ability to actually pitch quite well in reality. Despite never playing baseball growing up, she has developed the skills to throw an excellent pitch. She can throw a strike and pitch over 60 miles per hour.
Clearly, the hours spent training and working with a coach have paid off. Bunbury is not just an excellent actress; she is also incredibly dedicated to becoming a solid pitcher.
Conclusion
With the many shows available on television right now, it can be difficult for an actor or actress to stand out from the crowd. One of the few individuals who has accomplished this feat is Kylie Bunbury.
Starring in Pitch has provided this talented actress with a platform to inspire people of any age, race, or gender. In fact, she is a success story in herself, as there are not nearly as many leading roles available to women of color as there should be. Bunbury is therefore not only highly entertaining to watch on screen; she is an inspiring person as well.