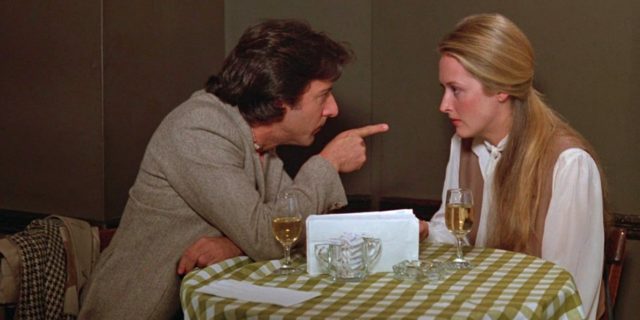 As the #metoo movement continues to gain momentum, there is no male behavior that will be left unexamined for inappropriate behavior, sexual harassment, sexual assault, or simply being boorish. Academy Award winning actress Meryl Streep recently has accused Academy Award winner Dustin Hoffman of stepping over the line in a scene from their multi-Oscar movie Kramer vs Kramer. Numbers don't lie, so let's look at a few of them.
Kramer vs Kramer won a total of 5 Academy Awards including Best Picture, Best Actor (Hoffman), and Best Supporting Actress (Streep). Hoffman is 80, Streep, 68. Streep's net worth is an estimated $90 million; Hoffman's $50 million. Streep's accusation in her own words: "I'm sure that I have inadvertently hurt people in physical scenes. But there's a certain amount of forgiveness in that. But this was my first movie, and it was my first take in my first movie, and he just slapped me. And you see it in the movie. It was overstepping."
It's easy to attack Streep on the basis of her being a vocal feminist and part of the #metoo movement. But the question that needs to be answered is what her possible motivation is. She has more money and accolades than Hoffman, so it's not professional jealousy. Maybe it's just that she wants to cement her place as a vocal leader in the #metoo movement.
Despite what her critics say, Streep is smart and savvy. She knows how to churn the political waters in her favor. And it's time to realize that her motivation, as well as many of the others in the #metoo movement, is to shift the focus away from the old successes and forward to future successes. She knows that Millennials and GenX-ers have zero interest in following a "leader" and are more tribal, as social media proves over and over again. Dethroning the men who are largely responsible for their current position in society and using them as steppingstones to create a culture that is run by Groupthink is the destination.
Listen to Streep's own words. "I'm sure that I have inadvertently hurt people in physical scenes. But there's a certain amount of forgiveness in that." Translated, there are two sets of rules – one for the accuser (the woman) and one for the accused (the man). She knows that men are completely back on their heels in this type of argument because the accusations of many women equal at least one convicting piece of evidence. She has the approval of Groupthink, and that's all that matters.
Not to forget Hoffman, he may be giving Streep tacit approval for the attack. Lest we forget less than 5 years ago, Hoffman was every woman's man after being interviewed about his role in the movie Tootsie: "There's too many interesting women I have…not had the experience to know in this life because I have been brainwashed." At 80 and with $50 million to live off of, it's doubtful he cares what anybody thinks. He actually advances the #metoo agenda by playing the role of sacrificial lamb.
Two aging actors with little to lose and more to gain.
Did Hoffman cross the line in the scene from Kramer vs Kramer? More than 35 years later, the only people who care are those who will use the accusation – or Hoffman's response – to further their agenda. As Streep openly admits, it's part of the job.