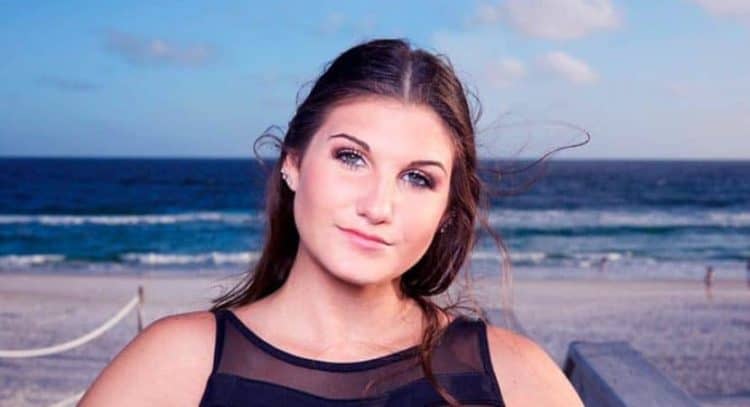 Until "Floribama Shore" premiered, Kortni Gilson remained only famous in her home town, Panama City Beach, where she knows everybody. Kortni was born in Hawaii, but her family moved to Panama City Beach when she was three. Kortni has remained there enjoying the diversity that the city flaunts with the various ethnicities. She got to know about the casting of the reality show through a friend, and when she got the call, she thought it was a prank. Now Kortni has become a reality star, and here is everything else you did not know about her.
1. She has a crazy ex-boyfriend
The end of relationships can remain civil or full of drama, and Kortni's fell in the latter. After dating her ex-boyfriend Logan for quite some time, the couple broke up, and Logan did not take it kindly. According to Starcasm, the breakup was on April 1, 2018. On April 20, 2018, Logan went to the club in which Kortni and her friends were partying. He threatened to slice them open and kill himself if Kortni did not give him another chance. Kortni, therefore, took out a protective order which Logan violated in May 2018. From June to July 2018, Logan continued contacting Kortni, and in August 2018, asked her not to report him to the authorities.
2. She had feelings for Jeremiah Buoni
Nothing hurts as much as an unreciprocated love, and unfortunately, Kortni experienced the heartache. Jeremiah Buoni, who stars alongside Kortni in "Floribama Shore," had captured Kortni's heart. Too bad for her because he did not feel the same way about her. Matter of fact is he put an end to any feelings she might have felt by clarifying that he saw her as a sister and nothing more. Jeremiah blamed the roommates for encouraging Kortni to act on her feelings while fans could not help but hope that a romance sparked between the two.
3. She has been arrested twice for DUI
In September 2014, Kortni was arrested for suspicion of DUI. At the time, she told the police she had only had one drink and showed the arresting officer an open bottle filled with alcohol. Kortni was ordered to pay $160 fine, but two years later, she was in the same predicament. In October 2016, Kortni had had too much to drink and had parked about 4 feet away from propane tanks. She plead guilty to reckless driving and got a sentence of one-year probation, 50-hour community service, license suspension for six months, and $1,050 fine.
4. She had a miscarriage
The joy of having a baby beats any other, but sometimes we celebrate too soon. Usually, the rule of thumb is that one should wait at least three months before even sharing the good news because anything can happen. Kortni had the painful experience of a miscarriage, as she revealed on her Twitter account. She said that the trauma is something she had to live with for a long time. Kortni added the pain is something she would never wish upon anyone, and women who had undergone a similar experience opened up while also comforting her.
5. She was a cheerleader in high school
There is this belief that cheerleaders are usually destined for greatness, and they also happen to be the most popular in school. It could be true considering that Dakota Fanning was both a cheerleader and homecoming queen of Campbell Hall High School. Additionally, Halle Berry, Sandra Bullock, Kelly Ripa, and Cameron Diaz were all high school cheerleaders, and they are now among the most celebrated actresses. Well, Kortni could become one actress to watch out for with time given the precedent set. She was a cheerleader in high school, a passion she might have inherited from her mother, who was a high school cheerleading coach.
6. Her nickname is "Krazy Kortni,"
Birds of a feather flock together, but sometimes there is a person who seems to go off the rails. Kortni's friends seem to think that the reality star is crazy, and they have every reason to think so. In the first episode of "Floribama Shore," she peed on Candace Rice's bed and denied it. Moreover, she has been fired from every job she has ever held. Maybe it is the crazy behavior that first attracted her to Logan to him since he saw some compatibility.
7. Her net worth
For someone who can barely hold on to a job, it is no surprise that Kortni has only managed to accrue $200,000 as her net worth. Starring in "Floribama Shore" is the longest she has even been on a single job, and it is because it is opening other avenues for her. She utilized the exposure she gained from the reality show to market her modeling skills since she is a part-time model. Kortni also makes money from her Instagram account, where she promotes brands such as Me Clothing Line.
8. Her education
Kortni attended three high schools, which could be due to her crazy behavior. According to News-Herald, Kortni went to Bay High School, A. Crawford Mosley High School, and Arnold High School. After graduating from high school, Kortni attended Florida Virtual School, maybe aiming to improve her GPA and impress colleges. After that went to Gulf Coast State College, although it is not disclosed the course she studied.
9. She had a pregnancy scare in season 2 of "Floribama Shore."
Gone are the days when you would expect that a bride wearing a white wedding gown signified her chastity. Virginity is no longer something that women hold dear, and the minute that a girl gets a boyfriend, they become intimate. Kortni had been having unprotected sex, and she thought that she might have become pregnant again. Having experienced the trauma of a miscarriage, Kortni could not even take the test on her own, so she called on Nilsa to help her do it. To her dismay, the stick had a faint blue line signifying she could be expectant. As she waited for a doctor's appointment to confirm, Kortni conducted more tests. She thought that if she were pregnant, Kortni would not carry the baby to term due to the high levels of stress she had at the time.
10. She is close to her mother
Kortni had never lived a day of her life away from home until she was cast in the "Floribama Shore." She even found jobs close to home so she could drop in any time. With the series being filmed in Panama City Beach, Kortni could not be more excited to know that her mother was only a call away.