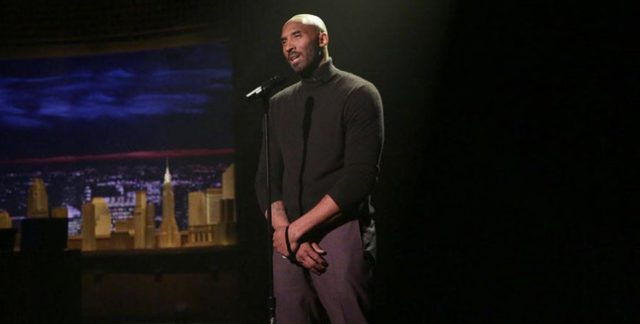 Kobe Bryant is considered to be one of the greatest NBA players to ever play the game. He's also been known to dabble in sneaker design. In his spare time he loves being a father. In his post NBA life Bryant has taken on the new title of "venture capitalist." But there's another talent we may have been missing all this time in Bryant's arsenal: slam poet. Fortunately, Bryant decided to put his skills to good use on The Tonight Show, where he performed a slam poem all about…..of all people….Steve Urkel?
The verse was a tribute to the iconic high-pitched nerd of Family Matters and his alter ego, Stefan. "Transformation Urkel to Urquelle, suspenders to lapels," Bryant began, donning a simple black turtleneck and standing in the dark with a single spotlight. "From nerdy Steve–got any cheese?–so puny and week. A metamorphosis from geek to fleek."
That little verse was Kobe just getting started. There's plenty more where that came from.
Check out his whole performance below: