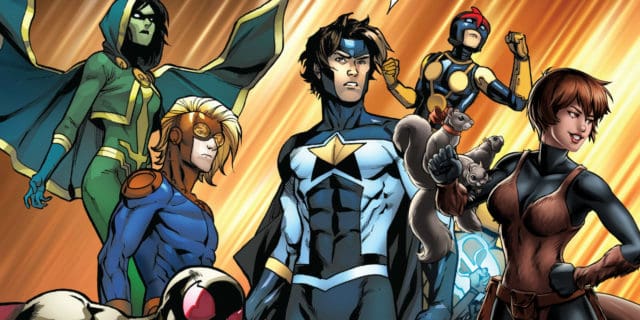 It's sad news to fans of New Warriors as the show jostles to find a new home after it was confirmed it will not air on Freeform in coming episodes. The comedy, which stars Milana Vayntrub and Derek Theler, might be transferred to the forthcoming streaming service on Disney. The show is on the move and will probably land a new home soon. This is a half-hour scripted comedy that began airing on Freeform early this year, and reports have indicated Marvel will have to shop the comedy to a different outlet.
Headed for a new home
Marvel will have to shop the show to other outlets and one of the destinations rumored to have shown interest is Disney through their new streaming service. But their sources have said this is a long shot, we have to wait for clear communication from inside to know where to watch it next. There are 10 episodes by Kevin Biegel that might be issued outside the parent company of Marvel, which in this case is Disney and affiliates. Of course, selling on those platforms will be easier, so there is high likelihood the show will land on one of them for 2018/2019.
According to insiders, Freeform is expanding its programming to include four nights every week starting 2018 but they could not get a slot to allocate New Warriors as originally intended. The President of Marvel Entertainment, Dan Buckley, said the company is now looking for the perfect partner to take up the show starting 2018. Some information has also surfaced claiming the show cannot sell to outside companies, but Marvel came up to deny these claims amid inconsistencies on who will really pick the show up after the discontinuation they have suffered.
If the information about limiting outside companies from picking the show is true, then this might mean the potential of the show to land a new company is also crippled and it might cripple any effort to have it put back on air, which could mean fans will have to wait longer to get the first glimpse of the continuation. With the streaming service scheduled to start in late 2019, the news that this is where the show will land only serves to make the situation worse because that's more than one year in the waiting. Therefore, with this in mind the Disney service is not a likely destination because it would not be ideal to keep it off air that long. Marvel confirmed the show will start airing in 2018 and this hints New Warriors might be transferred to different streaming services.
Production
The production of the show is said to start in January 2018, around the same time the show will be in the process of starting a new contract with the company they will land. Fans have had a lot of mixed reactions about these developments and most of them are pushing for action to bring it back as soon as possible. That's why Marvel is working under pressure to ensure the stalemate is sorted before 2018, when they expect to have it back on air.