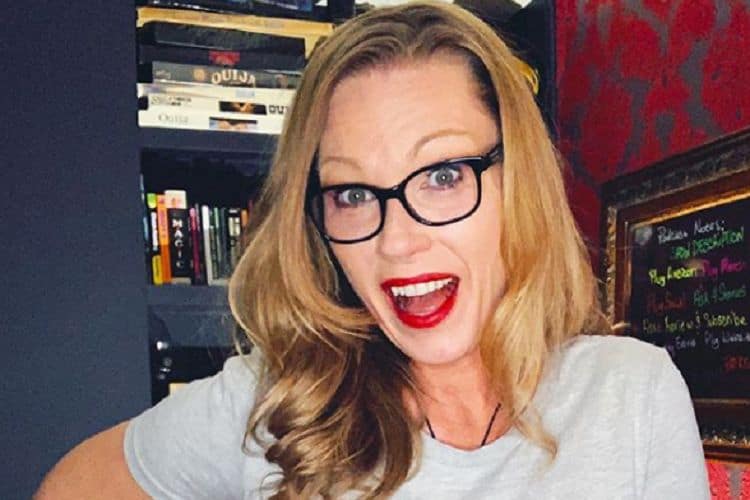 Kitsie Duncan is an American actress who is best known for her role as the investigative host and lead investigator for the television series "Oddity Files." She has appeared in several other films and short films. "Oddity Files" was only shown for two seasons from 2012-2014 and some fans are wondering what happened to the actress. We looked into her current activities to find out, as well as checking into her history and learned some interesting things about what she's been up to. Here are 10 things that you probably didn't know about Kitsie Duncan.
1. She's a native of Chicagoland
Kitsie was born in the area of Chicagoland, but this isn't where she was raised. She had an interesting childhood. Her family moved around a lot and so she spent time in several different cities during her youth. This gave her an interesting outlook on life and although it meant not putting down too many deep roots, she got to meet a lot of new people throughout her young life.
2. She's married with a family
Kitsie Duncan is a wife and mother. She has put down roots in Bloomington, Indiana where she makes her home with her family. She is married to Chris Jay. The couple was married on June 17, 2005, and they are raising the four children that they have together. Kitsie still makes time for her acting career but from time to time, she went on hiatus. She took her role as wife and mother very seriously and she put her husband and children as the top priority. The kids are older now so she has more freedom to pursue her professional aspirations.
3. She loves the spotlight
Duncan is the kind of person who enjoys being in the spotlight. This has been the case since she was just a young girl. She became involved with local choir and drama groups so she could get out and perform. This is what has led her to pursue a career in acting in films, television, and short films.
4. She has an impressive resume
For a lady who took time out to raise a family, Kitsie Duncan has an impressive resume as an actor. She launched her professional career in 2010 appearing in the film "Lethal Obsession." This was followed by the short film "A Christmas Scream" the same year. 2011 was a busy year for her as she was involved with five different projects. She was the voice of Dr. Duncan in "Deep Seated," Debbie Davis in "The Collective," the same character in "Meateater," Kiki Kill in "Psycho Street," and the mother in "What They Say."
5. Her schedule was crazy from 2012-2014
Kitsie Duncan was an actress who was in demand from 2012 through 2014. She appeared in the films "Dark Worlds," "Myctophobia," "Found" and "Legacy of the Masque," in 2012. the following year she appeared in a minor role in the film "Proxy," and in 2014, her plate was completely full with acting jobs. She appeared in teh role of Cynthia Arossi in "Midsummer Nightmares II: Summer's End," and "The Impersonators." She also appeared in the television series "Total Divas" and in her own series as host and investigator in "Oddity Files."
6. Kitsie went on hiatus in 2014
After 2014, Kitsie took a break from acting to focus on her family. She returned in 2017 and appeared in the film "Ex-Kid" as Leslie Pildegrass, but this was the last thing that she's done since.
7. She's a producer, writer and director
In addition to being a host, lead investigator, and actress, Kitsie Duncan has done some work behind the scenes. We learned that she wrote, directed, and produced "Oddity Files." She also served as producer or associate producer for "Dark Worlds," "Crestfallen," "Meateater," "A Christmas Scream," and "Lethal Obsession." Kitsie Duncan is a multi-talented professional who is learning all aspects of the film industry. It wouldn't surprise us to see her with her own production company in the future.
8. She sees herself as a bad actor
Kitsie Duncan was talking to a reporter who was interviewing her during the time that she was the host of "Oddity Files." When she was asked about what got her into this genre, she was very upfront about it. She believes herself to be a terrible actress, and so she wanted to get into reality television. Being a paranormal investigator requires very little acting and it's something that she was totally comfortable with. She teamed up with Clayton Abbott for the adventures and went out to investigate places that were reported to have paranormal activity, as well as UFO sightings and another inexplicable phenomenon.
9. You can follow her on Instagram
Kitsie has set up an Instagram account. This is an amazing place for you to follow her career and keep up with the latest news about what she's doing. So far, she has 4,995 followers and she's made 7,874 posts. She does an excellent job of keeping the page updated for her followers.
10. She's doing some interesting things these days
While we were on Kitsie's Instagram account we learned yet more interesting facts about her. She is a self-proclaimed geek, but she is also a photographer, as well as a podcaster. She lists a link to "Oddity Files" which is available on Prime Video.In addition to being a wife and mom, Kitsie still talks about having an interest in the paranormal. Even though we don't see her on television ghost hunting, it doesn't mean that she has stopped doing it. Who knows? Maybe now that the kids are older she will entertain the notion of either resurrecting "Oddity Files," or perhaps creating a new paranormal investigation show. It seems to be one of the hottest topics in reality television these days.