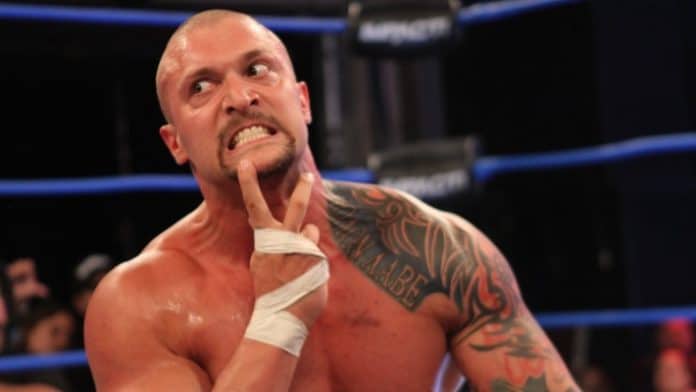 Kevin Kesar goes by the name Killer Kross or Kevin Kross on shows. He is an American professional wrestler born on July 19, 1985, who became famous during his time at "Impact Wrestling." Kross has also worked with a couple of other companies like "Global Force Wrestling", "Lucha Underground", and "Lucha Libre AAA Worldwide". He will be working with Major League Wrestling in 2020 where fans cannot wait to see his trademark finisher move, the choke sleeper. Below are some of the things you probably do not know about Killer.
1. Where he got the character "Killer Kross"
The name Kevin Kross started when he was looking for a character representation at the beginning. He looked for a psychologically fit name that would be memorable, easy for fans to chant, and also easy for marketing purposes. The name "Killer Kross" came to him as he was wrestling against Shane Douglas when he performed a move inspired by the movie, "No Country for Old Men." He aimed at something uniquely different from what other wrestlers were saying since it would draw more attention. When his fans started calling him "The Tollman" from a promotion he did, and "The people's executioner" Killer liked it. Therefore, he adopted his character, "Killer Kross."
2. He wanted to be an actor
Kevin had always wanted to be an actor, so when he was a teenager, he would go to the theater. However, his interests were split since, but he also liked professional wrestling. Had wrestling not worked out for him, Kevin would not have hesitated to try his luck in acting.
3. His role models
Throughout his life, there have been different people that Kevin looked up to as a child, for example, Warrior, whose real name was James Brian. When he started to differentiate between what was real and what was not, Kross began to love people with an amateur background like Gary Albright as well as Dr Death, whose real name is Steve Williams. Kross later started learning about character and role-play, after being inspired by Sean Christopher Haire, aka Sean O'Haire.
4. Why he left "Impact Wrestling"
"Impact Wrestling" issued a statement in December 2019 saying that they have finally released Kevin after Kross and Scarlett requested their release. Scarlett's release took effect immediately but, Kross had issues with the management claiming that some of his payments got delayed. His reasons for leaving also included a performance where they required him to cut himself on the stage. He instead used fake blood and was not comfortable with that. Additionally, they had not given him any chance to wrestle since July 2019. He previously worked with "AAA," but when it came to the moment where they collaborated with "Impact Wrestling," Kross was taken off the show as written by Sporting News.
5. His social media
He has an Instagram account with an active audience of 45.7K followers. He mainly posts about his career, girlfriend, and the trips he makes for vacation. He also has a twitter account with 21.7K followers and a website where he sells his merchandise, posters, T-shirts, and autographs. Kross also has a YouTube channel that he started in 2014, and has 3.7K subscribers so far. His YouTube channel contains everything about his career.
6. What is going on in Kevin's love life?
The hot young wrestler is currently dating Elizabeth Chihaia aka Scarlett Bordeaux. Scarlett is also a wrestler presently signed to "WWE." On both their Instagram pages, the two have been dating in real life, not just for the sake of showbiz. They travel to places together, and Scarlett's pet-peeve about Kross is that he has long conversations with his fans.
7. What he does to build his body and mind healthy
Kevin Kross always trains recreationally for fitness and therapeutic purposes. He used to go for combat arts, amateur wrestling, boxing, martial arts and played a lot of sports when he was young. For some time, Kross had moved to Los Vegas to play professional mixed martial arts. He still practices mixed martial arts, and in Las Vegas, he visits Vanderly Silver School or Syndicate Mixed Martial Arts School to maintain his fitness.
8. His favorite movies
Kevin Kross grew up reading comics like Marvel; therefore, when they started making the Marvel movies, he was their front-row fan; Captain America was his best character. "Collateral," starring Jamie Foxx and Tom Cruise is also one of his favorite movies. Some of the film producers that he loves and would never miss their movies or shows are Martin Scorsese, David Lynch, and Ridley Scott. David Lynch's "Twin Peaks," inspired Kevin in one of the promotional projects that he made with Jon Moxley.
9. He loves reading
Kevin Kross is currently reading the book "Theta Healing: Introducing an extraordinary healing modality" that he was introduced to by Scarlett. The novel by Vianna Stibal explains how she used the Theta healing technique to cure her cancer after all the healing processes had failed. His favorite book is "Art of war." by Sun-Tzu which talks about strategies used in warfare, which is a metaphor for life. He must be laying a good foundation for his life since the book talks about the need to articulate your vision clearly so that people would want to be a part of it as well as setting up alliances with people and resources needed to achieve your goals. He also loves "Behold the Pale Horse" by William Cooper and "American Psycho" by Bret Easton Ellis. Kevin must have therefore enjoyed the film "American Psycho" which is an adaptation from Bret's book.
10. He has a spiritual tattoo for protection
Kevon has always wanted tattoos, and his first one was a black band tribal tattoo. His recent one was done in a Buddhist temple in Thailand when he and Scarlett went on a bag packing trip. The drawing of Kevin Kross tattoo was spiritual; a rod was pushed to his chest for 20- 30 minutes and this ceremony was to protect and bless him.
Tell us what's wrong with this post? How could we improve it? :)
Let us improve this post!