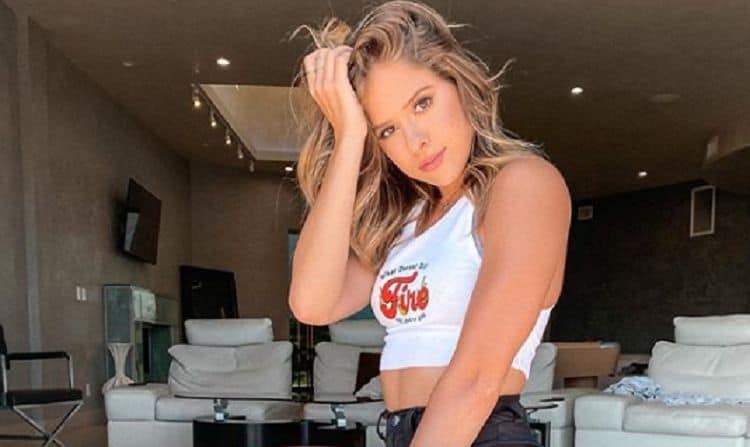 TikTok is a controversial app that many people use to post short videos tied to music. The app has made many people famous so far, and that kind of social media fame can lead to bigger things like a career, a payday, and a lot of advertisements and endorsement deals. For someone like Kelianne Stankus, it's caused her to become quite the phenom. She's someone people know from the app, but few people know anything about outside the app. We thought we'd take the famous social media star's life from outside the internet and bring it to you right here.
1. She's a Gymnast
She was already famous when she began her career on the social media app everyone has been talking about. She is a world class gymnast who once performed to her favorite Justin Bieber song on live television in a meet. She's quite good, and many people only dream of being as good as she is.
2. She's a California Girl
She is a California girl all the way. She's from Riverside. She was born there on March 29, 1996, which makes her a very young star. Actually, we suppose it makes her an older star on the app she's on. She's 24, and that means she's a few years older than many people.
3. She's Got a Fun Nickname
Growing up, her family gave her a cute nickname. She doesn't go by Keli. She goes by Sleepybear, and we have to wonder what made them want to give her that nickname. She's got a lot going on in her life, and that's something we have to ask about.
4. She's One of Three Kids
She's got to brothers. She is the only girl in the family, which is kind of cool. She has two brothers. Their names are Cody and Lucas, but we don't know if they are older or younger than she is. She is, however, the only girl. What this means for her is that she's probably just a little bit spoiled in some capacity.
5. She's Been on the Ellen DeGeneres Show
She was once part of a group that got to go to the Ellen show and perform as part of something called the acrobatic hoverboard dance group. The group got to perform a total routine with some other people in which they performed their entire acrobatic routine while they were on hoverboards. We can't even stand on our kids' hoverboards with our feet and not fall off, so this is nothing short of entirely impressive.
6. She's Got a Famous Boyfriend
She's dating a young man by the name of Chase Mattson. He is a model, and they seem to be quite happy together. She loves to post photos of herself online with him, and many of them are so romantic it's ridiculous. She recently posted a photo of them sharing a kiss on a foggy day in San Francisco with the Golden Gate Bridge in the background.
7. She's Active
She and her boyfriend are often out and about and doing things that are active. They seem to enjoy being fit and healthy, which we are totally fans of. They have what appears to be a very active lifestyle that involves hiking and many other things.
8. She Likes to Indulge
When she's not being healthy and taking care of herself, she likes to do a few things that allow her to indulge. She's got a lot going on in her life, and she's a big fan of things like balance. She does a great job taking care of herself, but she also has a big love of things like pizza and ice cream, which are nothing short of total comfort foods.
9. She's Positive
She is a huge fan of being positive. When she's not busy with her life, she likes to spend her time making sure that all of her social media followers are having a great day. She's got a love of sharing good mornings and well-wishes with people she's got following her, and we kind of love her positive outlook on life and her desire to share that with everyone around her.
10. She Likes Iced Coffee
We love a coffee lover, but she's not just any coffee lover. She likes iced coffee. She feels that it 'hits different,' and we have to agree with her on that one. Sometimes, it's just what we need. We prefer our coffee hot and black with nothing in it, but some days just called for a good old-fashioned ice coffee that brings joy.