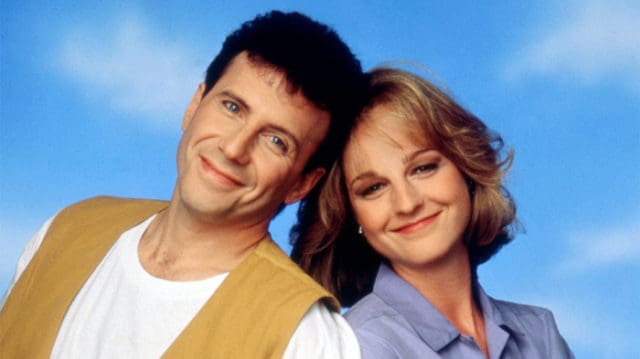 The reboot train is still going as Mad About You hits the revival stage as Helen Hunt and Paul Reiser have officially signed on for the show. Right now the general feeling is that Hollywood is either tired and needs a rest or there just aren't any new ideas coming out of the writer's pool and it's been deemed time to go back to the drawing board and figure out just which shows can be pulled back into the spotlight that people might enjoy. Looking at the ratings the shows got before going off the air could be a way to determine just which ones will be brought back and which ones will be left where they are to collect another layer of dust.
Mad About You is one of those shows that, like Seinfeld and Friends in a way, seems to have caught the attention of a lot of people but the distinct love of just a select few. It was a show that was talked about back in the day and was just fun enough to keep around, but when it had reached the peak of its popularity it was time to think about winding down. One great thing about the show coming back is that the characters actually CAN come back. No one that was important to the story was killed off or made unreachable in any way. Some shows that might have had a chance have died out before ever being a shot since some of the favorite actors we can recall from back then have either passed on and made it impossible or there's just no desire on anyone's part to make a comeback. Or some people just really can't make it back.
The reboots are getting a little bit crazy as of now however since they're starting to become something that seems preferable to coming up with anything new. There are still plenty of new shows but even those are starting to follow the same old formulas that were great when they first came around but tend to become old and stale when they're still touted out as though they're something brand new and shiny to play with. Hopefully Mad About You will come out with a story line that's fresh if not entirely new as it would be nice to see the two lead actors bring another set of issues to the screen in an updated and modernized fashion. Let's face it, we're not in the 90's anymore and it's time for a show that can be adapted to a different decade. It seems entirely possible and the actors are skilled enough that they should be able to make a go of it, but there's still the idea that the writers are either getting lazy or being told to keep looking for stories that can be extended and kept alive for long enough that the ratings of their parent stations can see a promising return.
If the show is as good as it used to be then it should be worth watching.