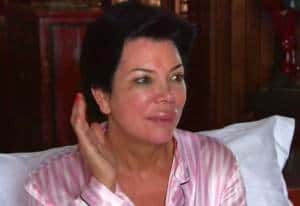 On the latest episode of Keeping Up With The Kardashians, the fun and frolic continues in the Dominican Republic. Still smarting from the revelation that Kris was in contact with her former lover, Bruce sleeps in a separate room at their villa. Khloe happily departs the drama for home feeling as though she needs a vacation from her family.
Scott is bored with the tension and insists Rob hang out with him. They do some drinking and decide to prank the younger girls. In the middle of the night they sneak into the Jenner girls'room and give them a good scare. The next morning Bruce blasts Scott for his drunken prank.
Kris wakes up with seriously swollen lips, due to a food allergy. Bruce tells her God is punishing her for giving Todd her email address. After making fun of her, the gang leaves Kris to go skeet shooting. Except Scott. He doesn't want to get out of bed, telling Kourtney the more he sleeps the less time he has to spend time with her family. Bruce and Scott are still at odds over the Bruce's diss.
Kim teases Scott for peeing in a garbage can while he was drunk the night before. Kourtney joins in the teasing and he gets fed up. Much to everyone's shock, he packs and leaves. Rob reprimands Kim and Kourtney for getting on Scott's case, humorously urging them to talk about more meaningful things like politics. Kourtney tells Bruce that Scott left because of the teasing. Bruce can't understand why he just gets up and leaves all the time and can't deal with things. He asks Kourtney if she's prepared to live with this behavior the rest of her life. They suspect Scott went to a neighboring hotel.
Finally Bruce and Kris discuss the Todd situation. She tells him she did not meet up with Todd. Bruce backs down and they agree that they have to stick together and be solid because everyone around them is always having crises. Bruce pays Scott a visit at his new hotel. Scott complains that someone is always picking on him for something. Bruce says leaving is not the way to deal with it, and reminds him of how he walked out at the track. Scott finally tells Bruce how he made him feel that day and how overall he feels like an outsider. He actually admits to being scared that one day Kourtney will just leave him over something he's done. Bruce says no matter what, deal with the issues and don't run away.
Bruce reports into Kris and Kourtney about his talk with Scott and feels he will probably return for dinner. Sure enough, Scott shows up with Rob in tow. The tensions subside and everyone can relax. Kourtney tells Scott that they will need to have a talk. Bruce feels for Scott so he goes out of his way to spend time with him the next day. Meanwhile, Kris talks to Kourtney about how her lack of commitment to Scott. She tells her Scott feels dispensable and urges her to buy Scott a special gift.
Finally Kris's lip return to normal on their last night of the vacation. Bruce appreciates all the work Kris has done to put the vacation together and all the stress she endured. He plans a special dinner in her honor. Kourtney assures Scott she is committed to their relationship even though they are not married. Scott reminds her that she promised him they would get married if they have another kid. She knows of her promise, but had no intention of getting married while she's pregnant. He tells her because of her indecisiveness he will not wait forever. She presents him with an island love bracelet meant to demonstrate her commitment to him.
On the next episode of Keeping Up With The Kardashians, Khloe returns to Los Angeles and Scott acts up at a sweet 16 party. Catch it Sunday, July 8 at 9 p.m. (ET) on E!