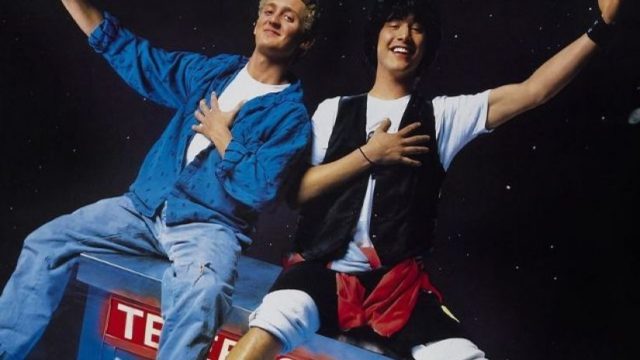 Up until now the last anyone has heard about a Bill and Ted part 3 was back in 2010 when it was announced that the idea was actually in the works. At the time it was believed that they had all the pieces they needed to get moving on the project and would be working on it soon enough. But things tended to happen and time constraints as well as conflicting schedules kept anything from really coming to fruition. As of now however Alex Winters and Keanu Reeves are hopeful that things will get moving. It would no doubt best to get going at this time since neither man is getting any younger and the story line is already going to have to account for the amount of aging they've done since the original film.
If you remember correctly the second Bill and Ted movie ended with the guys being married and were huge rock stars. The only trouble with that is the simplistic ending didn't really go on to tell you much of anything other than the fact that they caused worldwide peace and harmony. It was a feelgood moment that didn't have a lot to it but also didn't really leave us with anything but a positive note that left people hanging, just wondering what else might have happened.
Well, in the third installment we might get to find out. After all Bill and Ted had to get old eventually, possibly have kids, and the figure out just what it was like to be the adults they'd railed against for so long. The cast will no doubt be a great deal different since George Carlin passed away and the princesses likely won't be recast with the same women unless the actresses can be found. Chances are though if Bill and Ted are still married to the princesses that the director will call for someone else.
And the title, 'Bill and Ted Face The Music', seems a little ominous since it almost sounds like they might be coming to the end of their career and must find a way to stay relevant or go out like the legends that the movies have made them out to be. It could be an interesting explanation if the movie is handled right. Of course looking at the other two if this one was a campy attempt at humor it might not be too surprising and it might even be a nice, nostalgic nod to the first two movies.
Bill and Ted's Excellent Adventure was a lot of fun when it came out since it was something new and altogether interesting and didn't challenge people too much. It was supposed to be a rather simple movie and therefore it wasn't a big surprise when it wasn't an instant classic. But the sequel attempted to take the same humor and deliver the same kind of laughs and kind of fell short. A third film is going to need to go back to the drawing board and remind people why Bill and Ted were worth watching.
Save