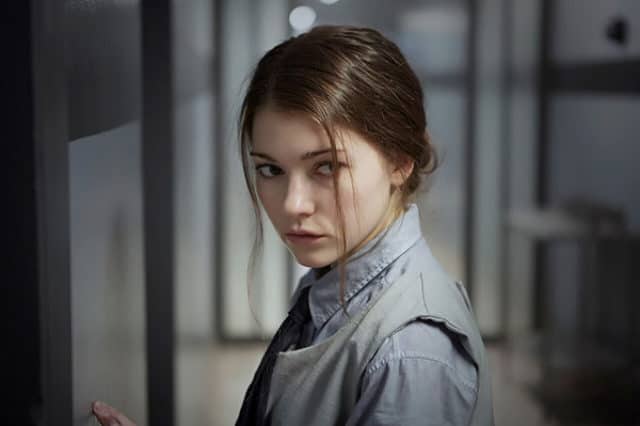 Katie Douglas is only in her early 20s but she's already managed to get well over two dozen on screen credits. As she continues to land more and more opportunities it has become quite obvious that Katie is here to stay. Her versatility has left viewers, colleagues, and critics impressed and she's not done showing the world what she can do. She is one of the main cast members of the new Netflix series Ginny & Georgia and the role has given her the opportunity to share her talent with countless viewers all over the world. Those who haven't seen Katie's work yet will definitely want to find out what they're missing. Keep reading for 10 things you didn't know about Katie Douglas.
1. She Isn't Related To Kirk Douglas
Since Katie is an actress with the last name Douglas, some people may have naturally assumed that she is related to the legendary actor Kirk Douglas. In reality, however, she has no connection to Kirk Douglas. She also isn't related to the British actress, Sarah Douglas. Katie's family doesn't appear to have any connections to the entertainment industry.
2. She Is From Ontario
Katie was born and raised in Ontario which is where she got her start with acting. She joins a long list of other talented actors from the area including Jim Carrey, Dan Akroyd, and Michael Cera. As far as we can tell, she still lives in Canada and hasn't mentioned any plans to relocate.
3. She Loves To Draw
Acting is just one of the many things Katie is good at. She is an overall creative person and she loves any opportunity she gets to express herself through the arts. Drawing is one of her favorite pastimes and she even enjoys coming up with cool drawings for her jeans.
4. She Enjoys Being Outdoors
Katie is a curious person and she's always loved to explore her surroundings. She enjoys being outside and taking time to appreciate the beauty of nature. From hiking to hanging out at the beach, being outdoors has become a great way for Katie to recharge and relax.
5. She Likes To Take Pictures
At this point in her career, Katie is best-known for the time she's spent in front of the camera. When she isn't at work, however, she likes to see things from the other side. Photography appears to be a hobby of hers and she loves to take pictures as well as admire other people's work.
6. She Is A Heath Ledger Fan
At 22-years-old, Katie may be a little bit too young to have witnessed all of Heath Ledger's work when it was originally released, but that has never stopped her from being a fan. Although she hasn't mentioned what her favorite Heath Ledger film is, she has shown her love for late actor through photos on Instagram.
7. She Is A Private Person
Most people who start their careers as children end up having their personal life put on display for all the world to see. Fortunately for Katie that hasn't been the case for her. She has been able to maintain a high level of privacy and she seems to enjoy keeping her personal life to herself. She doesn't do many interviews and her social media content doesn't really provide much insight into her private life.
8. She Is A Musician
I wasn't exaggerating whenI said that Katie is always thankful for an opportunity to express herself artistically. On top of acting, taking pictures, and drawing Katie is also a musician. She sings and plays the guitar in her free time. At the moment, music appears to be a hobby for Katie and she hasn't released any songs of her own.
9. She Likes To Read
One of the key components to success in any line of work is a willingness to learn. Anyone who wants to grow and get better at what they do has to be open to learning new things. Katie has always been someone who likes to expand her knowledge and reading is one of her favorite ways to do that. When she has time off, you can usually find her somewhere catching up on a good book.
10. She Likes To Travel
Katie loves getting out and seeing as much of the world as she possibly can. She enjoys traveling to places near and far. In addition to visiting different places throughout Canada, she has also traveled to Europe. Her love for traveling goes well with her love of the arts. All of the different experiences she's had have been great ways to get her creative juices flowing.
Tell us what's wrong with this post? How could we improve it? :)
Let us improve this post!