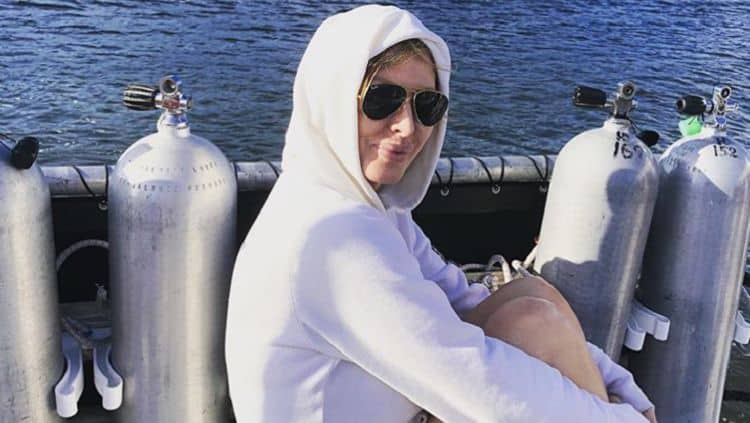 Kari Wells starred in the first season of Married To Medicine and has also been a guest star in subsequent seasons. Her husband is Dr. Duncan Wells and the couple have two children. Here are ten things about her that you may not know.
1. She Remains Good Friends With Toya Bush-Harris
After starring in the first season of Married To Medicie together, Kari and Toya Bush Harris became really good friends. Toya is the wife of another doctor on the show, Dr. Eugene Harris. They are still good friends until this day and take the opportunity to get together for a catch up whenever they can. They both still live in Atlanta and they speak on the phone on a regular basis. There are many pictures of the two of them hanging out on both of their Instagram accounts.
2. She Has Written A Romantic Novel
Kari has written a romantic novel that is based on some of the places she has traveled to. She told Bravo that this novel was written after she had spent a few months traveling with her children in Europe. She has also written a children's book called Pink Monkey which has recently been published. The book has an anti-bullying message and encourages tolerance which is something that Kari believes strongly in.
3. She Speaks Four Different Languages
Her love of travel means that she has an interest in learning different languages. She is self taught in languages such as French and Spanish. Traveling is something that she had loved since she was a child and is something that she continues to do with her own children. Therefore she has a lot of opportunities to put these languages that she has learned into practice. Spanish and French were good choices as they are languages that are spoken in several countries all around the world.
4. She Is CFO Of Her Husbands Orthopedic Practice
Although she is no longer a regular cast member in Married To Medicine, she still works at her husbands practice. Her role is that of CFO and so she plays an integral role in helping the business to run smoothly. She has had previous experience in running her own business as she had her own production company when she lived in Aspen. This would have taught her the importance of making sound financial decisions when running a business.
5. She Was Born In Britain
Kari was born in Yorkshire, England and this is where she spent her childhood. She was the youngest child in a large family and she believes that this is the reason she is able to get on with so many different people. Her parents were both hard-working people that tried their best to give all their children all the opportunities that they could. While she lived in England she became interested in dancing and performing. She was accepted into the Royal Academy of Dance (RADA) to train in ballet before realizing that this was not the career path she wanted to take.
6. She Has Starred In The Haves and Have Nots
People that have not seen Married To Medicine may also recognize Kari from the show The Haves and Have Nots. She starred in two episodes of the TV show in 2015 when she played a realtor. It is not known whether she will star in this show again as her character was specific to one particular story line. She also appeared in the Grand Prince Of Moscow in the same year. As acting is a career that she wants to pursue, then there is a good chance that we may see her starring in other shows soon.
7. She Has A Net Worth Of $8 Million
Her net worth is estimated to be in the region of $8 million. Celebrity Net Worth states that most of this money comes from the work she has done as a model and actress. She has also made some money from running her own production company and the salary she earns from her role as CFO. Her husband also earns a good salary from the medical practice and this will contribute to the household income.
8. She Makes Regular Donations To Charitable Causes
Both Kari and her husband regularly donate some of their fortune to charitable causes. Due to their medical background, it is little surprise that one of the charities they are actively involved in is Doctors Without Borders. They also support a number of youth charities in Atlanta as it is important for them to give something back to the community that they live in. Both Kari and her husband recognize that there are very privileged to be in the position that they are and they believe it is important to share their good fortune with others.
9. She Decided To Move To The US After Visiting Aspen
She fell in love with the city of Aspen when she visited with her sister on a skiing trip. She explains on her website that she made the decision to move to the USA from England, after previously living in Greece for several months before returning home. She started to work as a model in Aspen and did a lot of promotional work for the resort. Her husband was also born outside the United States, having grown up in Columbia. They both now live in Atlanta with their family and it does not seem as if they have any plans to leave the US as they are both very settled and their children have grown up there.
10. She Has Starred In Adverts For A Number Of Major Brands
As well as her work on TV shows, she has also starred in a number of adverts. Her work as a model has led to her becoming involved in a high profile campaigns for brands such as Pepsi, Visa and Jeep. She has also been involved in the production side of some of these adverts as well as starring in them and has worked with celebrities such as Mariah Carey.