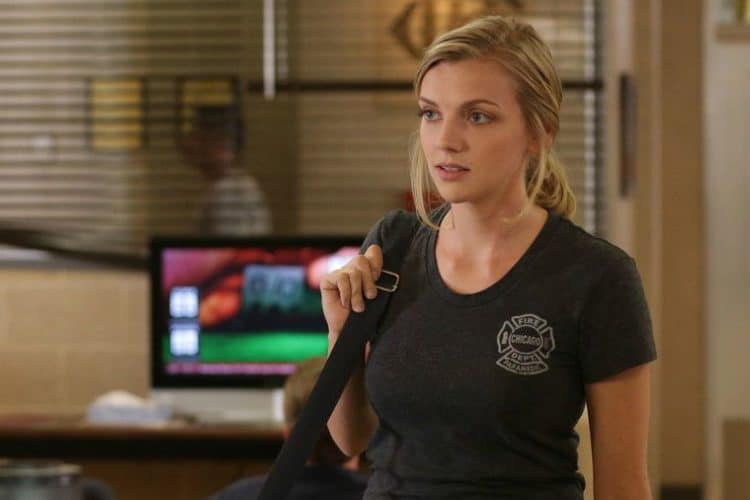 Kara Killmer is an American Television actress and celebrity. The 31-year-old was born on June 14, 1988, in Crowley, Texas. She was born and raised in Northern America, in the middle of a millennial generation. Kara has gone through a lot of challenges in her career. It became harder to climb the ladder in an industry where it is tough to cope, but she had a dream. Her aspirations in the film industry have made her more popular over the years, sharing screen space with some of the best actors in Hollywood. She has appeared on numerous Television shows and is famous for her role in the NBC show series "Chicago Fire." She also appears in "Chicago Med" and "Chicago P.D." where she plays recurring roles. Here are 10 things you might not know about her:
1. Her background
As a young kid, Kara grew up in Texas alongside her two siblings, a brother and a sister. The three were raised by a single mother who worked as an elementary school music teacher to make both ends meet. She and her siblings would act in local theater productions while they were still young. Her mother's unwavering support and Kara's love for the cameras helped grow her passion for acting. After finishing high school, she attended Baylor University in Waco, Texas, where she graduated with a BFA in performing arts in 2010.
2. Her Personal life
Killmer is currently 31 years old and is married to her fellow actor, Andrew Cheney. The two met in 2015 when they did the movie "Beyond the Mask" together. They dated for one year and decided to tie the knot on May 14, 2016. Before this, her love life was a secret. The couple has no children yet.
3. Community work
Over the years, Kara has not been left behind regarding matters of community development. According to TV guide, in 2010, Kara performed for the Pepsi Refresh Project. The event was held to support efforts to create a community garden in Los Angeles. She immediately got to the limelight, which increased her popularity.
4. She is an actress
Killmer's acting career began in 2010 when she featured in a Hulu reality television series. According to Fandom, in 2010, as she was still trying to make it in the film industry, she starred in the series "If I Can Dream" though the series was short-lived. She is famously known for "Chicago Fire," an NBC series where she played as a paramedic to replace Sylvie Brett in season three, 2014. She also stars in "Chicago P.D." as and in Scary Tales. She made her feature film debut with Andrew Cheney, her husband, and John Rhys-Davis in "Beyond the Mask;" the hit war action-adventure thriller which was released on April 5, 2015.
5. Her notable works
"Chicago Fire" ranks as her best work so far. Starring as Sylvia Brett, Kara has been part of 110 episodes since she joined the show in season 3 back in 2014. She starred in "The Sleeper," a movie that revolves around a woman whose life takes a wrong turn. Acting as Jones, her miscarriage, and the realization that her husband is a Russian spy with dangerous plans and motives drives her crazy. She stars in this mystery thriller as Jennifer Jones. The movie was released in 2018 and got a rating of 4.8/10. On the Hulu series "If I Can Dream," she starred in it though it only aired for one season. She also features in and "Horizon" as Anna Webber.
6. Her Hobbies
Apart from acting, Kara likes to spend her spare time doing very different things. When she is alone, she likes to paint and write, even though her works are not for any commercial purposes. Killmer also likes to spend time with friends and family. Her favorite sport is hiking, which she does once in a while when she goes out with her friends, husband, or any family member.
7. Her Zodiac
Kara's zodiac sign is the Gemini. With its ruling planet being Mercury, those born under this sign are known to express different personalities that are hard to differentiate. Gemini's are friendly and fun to be with, but they can change their mood and get serious at any time. The fifth month represents the Year of the Dragon in the Chinese Zodiac calendar. Those born under this sign are intellectual, energetic, and lively and are known to make excellent leaders.
8. The meaning behind her name
The names Kara and Killmer did not come by chance. Her first name is a girl's name of Latin, Norse, or Irish origin, meaning friend or dear. The name ranked as the 500th most popular name by 2018. Killmer, on the other hand, represents funny. In 2010, it was listed as the 29198th most popular name in the United States and was first recorded in December 1921 by the Social security Administration. Each letter is known to have meaning. K represents keen, I for inventor, L for little, L for laughter, M is for marvelous, E for enthusiasm, and R for relaxed.
9. Social Media
Kara commands a large number of followers on social media. According to her Instagram, she has more than 186k followers and more than 150 posts. On Twitter, she has more than 55k followers, while on Facebook, Kara has more than 17k fans. On all her social media platforms, she uses the name "Kara Killmer." She uses all the platforms to update her followers about the series she currently features in giving necessary updates. She recently took to Twitter and Instagram to tell her fans of the coming new season.
10. Her Net Worth
Kara is worth slightly above $1 million. Over the years, her talent and her career have helped her amass a reasonable amount of wealth. With acting being her primary source of income, she earns an estimated $50,529 per year though she has seen a rise over the past few years. She likes to keep a low key, and there is not much information about her assets, but she is one of the most influential characters in Hollywood today.