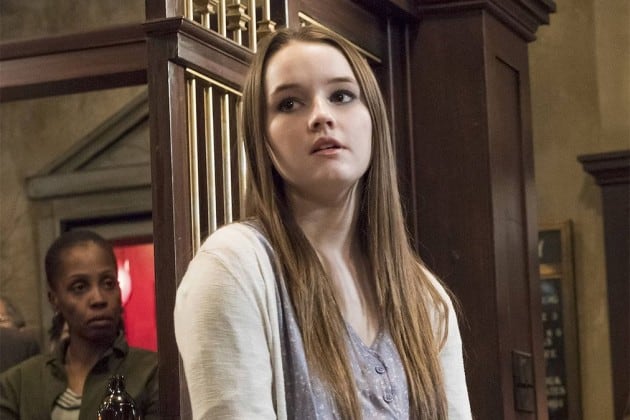 Have I told you guys how much I love this final season of Justified? Well, just in case I haven't done it enough, let me say it one more: I love this final season of Justified. Seriously, though, Season 6 has been filled with great episode after great episode, and that continued last night with "Burned," which may have been my favorite episode of the season.
The truth is that nothing too major happens in "Burned"; the hour mainly acts as a setup episode that develops a few things here or there, such as revealing that Wynn Duffy was in fact the informant that ratted out Katherine's husband Grady, or establishing the "partnership" between Loretta and Boyd. However, everyone, for the most part (R.I.P. Seabass), makes it through the episode unscathed, and both Raylan and Boyd are left in pretty much the same situations they were in before. So why is "Burned" such a great episode of Justified? The simple answer: it is so much fun.
Any episode of Justified that gives us more Wynn Duffy, more Loretta, and at least one Art and Raylan scene (and we got two of them!) is a good one in my book, and "Burned" allows for all of these characters to have their moments, particularly Wynn and Loretta, who finds themselves even more wrapped up in Avery Markham's web than before. A lot of the highlights here are the smaller scenes, like Wynn discussing "bad guy ethics" with Mikey, or Loretta walking into Boyd's bar to propose a deal. Everything about these moments is so quintessentially Justified, and they're just a pleasure to watch.
However, while there's no denying just how fun "Burned" is, these scenes with Loretta, Wynn, and others also carry great weight and lead us to the climax of the episode, as everyone gathers at the Pizza Portal for Markham's party. When given the chance to speak, Loretta embodies the spirit that Mags Bennett showed back during her infamous town hall performance in Season 2 and delivers a speech that appears to shift any loyalty that Markham had over to her and Boyd (it also paints an even bigger target on her back). Justified is able to fill every single moment of the sequence with tension, because even though we know that Markham's smart enough that he would never do anything in public to harm Loretta, especially in front of all these people he's trying to convince to join his side (not to mention Raylan), you can see the anger growing more fiery in his eyes, as Loretta digs herself deeper and deeper into a hole that she might not be able to escape from.
Futhermore, Kaitlyn Dever has always been great since she first showed up in Justified's second season, but "Burned" might be her most impressive episode to date. She continues to show Loretta's strength and determination and steals most scenes that she shares with Timothy Olyphant, Walton Goggins, and Sam Elliott. I couldn't be happier that she's playing a bigger role in these final episodes.
But while Loretta making her plans public was certainly a huge moment in "Burned," one that I'm expecting will have some major repercussions in next week's episode (we totally haven't seen the last of Boone), it's Boyd's failed attempt to steal Markham's money that has an even bigger effect on Justified's characters. After Wynn Duffy (now working again as an informant for the Marshals to help ensure the RICO case against Boyd) convinces Boyd to go after the money at Markham's party, it's pretty clear that this won't go well, and of course, it doesn't. Raylan essentially reveals to Ava that he know she's turned against him; Zachariah tries to kill Boyd, saying that he'll never let his niece stay with another Crowder; and then the explosion finally happens, and it turns out that it wouldn't have been big enough to get into the basement of the Pizza Portal anyway.
So how does Boyd's botched robbery affect pretty much everyone on Justified? It has Markham feeling quite secure, causes another rift in Boyd and Ava's relationship (I really thought he was going to kill here there for a second), leaves the Marshals with no idea of what Boyd's planning next, and makes Boyd more dangerous than ever. An angry and determined Boyd Crowder is a scary Boyd Crower, and I can't wait to see what he does next in Justified's final four episodes.
Other thoughts:
– Art and Raylan walking in and finding Wynn in his tanning bed is one of the funniest things Justified has ever done.
– After hearing so much about how ruthless and dangerous Katherine is, we get to see her in action for the first time when she shoots and kills Seabass. That was a great scene.
– I can't praise Kaitlyn Dever's acting enough. Loretta is such a fantastic character, but it's Dever's performance that makes her fit into this world so perfectly.
– And speaking of Loretta, how tense was the scene between her and Boone at her house? Oh, I can't wait to see him and Raylan face off against each other sometime soon.
What did everyone else think about last night's episode of Justified?
[Photo via FX]
Tell us what's wrong with this post? How could we improve it? :)
Let us improve this post!