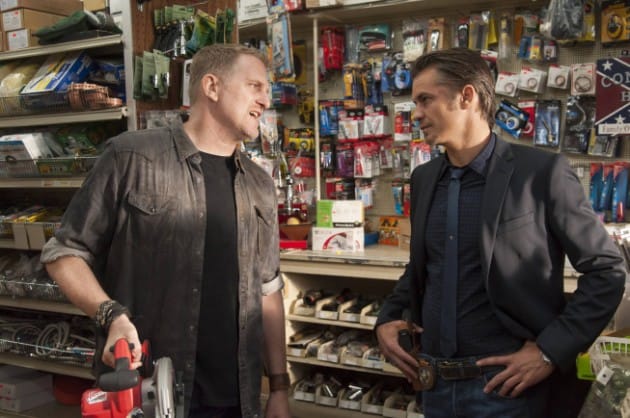 FX has been pumping out great shows for years now, with series like The Shield, Terriers, and It's Always Sunny in Philadelphia proving just how diverse and creative the network's development team is. However, out of all the shows that have come out on FX over the past decade or so, for me, there is absolutely no question that Justified is the cable channel's greatest achievement. Despite being mostly a procedural-type series when it first began, Justified quickly became more serialized, utilizing its Kentucky setting to provide us with some great, backwoods country villains, such as Mags Bennett in the show's second (and best) season, and carpetbagger criminals like Raylan's main nemesis in Season 3, the psychotic Robert Quarles. Even the fourth season of Justified, which mainly abandoned the "Big Bad" structure and instead focused on the Drew Thompson mystery, featured a scenery-chewing Mike O'Malley as Nicky Augustine, a character whose murder, which was, in a way, caused by Raylan (even though he didn't pull the trigger himself), had major repercussions in Season 5. See, a good villain is just as important to Justified's DNA as smart, fast-paced dialogue and strong, commanding performances from Timothy Olyphant and Walton Goggins, and a true, good villain was exactly what was missing from the Justified Season 5 cast.
There's no denying the fact that the fifth season of Justified was the show's weakest one by far. There were quite a few great individual episodes and some truly fantastic individual moments (everyone remember Boyd's cigarette pack bomb?), but overall, things just felt a little off. It was as if the show was trying to be more dark and serious by giving us more violence and death on a weekly basis (and there was A LOT of deaths in Season 5–the premiere alone was filled with them) to make up for its lack of real tension, which was caused by the fact that the Crowes, specifically brothers Darryl and Danny (played by Michael Rapaport and A.J. Buckley), didn't feel like legitimate threats, not in the same way as the Justified villains that had come before them.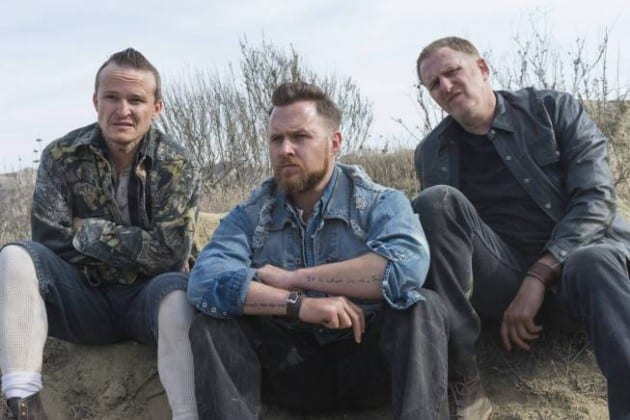 There's a short and simple answer for why the Crowes were not good villains: they were stupid. While Mags, Quarles, and even Boyd's father Bo were scary because of their intelligence and their ruthlessness, the only thing frightening about the Crowes was how idiotic their next decision would be. There was no real thought or strategy put into their plan to take over Harlan. They simply wanted it and thought that they could take it, and that type of egoism, combined with their lack of intelligence, made them more of a thorn in Raylan's side instead of an actual challenge for him.
The Justified writing team did try to rectify the situation by having Darryl shoot Art near the end of Season 5, a development that certainly provided some much needed emotion and purpose to a season that had been spinning its wheels, favoring unique and original procedural plots (those were, for the most part, the really good episodes from Season 5) over more serialized storytelling. Yet while Darryl's attack on Art did up the stakes for Justified's fifth season and give Raylan even more of a reason to go after the Crowes, it came a little too late, a last desperate attempt by the writers in the eleventh hour to try to recapture what they had with the Bennetts in Season 2, when Dickey shot and killed Raylan's Aunt Helen. Ultimately, there was no was no way that the show could fill the gaping villain hole in the Justified Season 5 cast.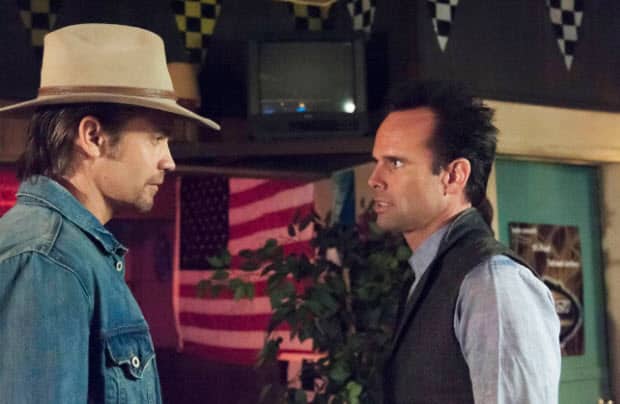 But all that doesn't have me worried for Justified's sixth and final season, which premieres in January. As the end of Season 5 teased, it's going to be the long-awaited confrontation that we all knew it had to be, the battle that Justified has been building towards since its pilot: Raylan versus Boyd. And if Boyd Crowder doesn't fit your description of a good villain, well, then you're more stupid than Dewey Crowe (and he thought he had four kidneys).
Some questions still remain, such as if Ava will be able to stick to her and Raylan's plan and help take Boyd down and what exact roles will Tim, Rachel, and Art play in this final showdown. However, unlike with the villains that made up part of the Justified Season 5 cast, I feel incredibly relieved to know that Raylan's last shootout will be with a more than worthy adversary. It's going to be big, it's going to be bloody, and it's going to be thrilling to watch, and the only thing we can't be certain about is who will make it out of Harlan alive.
Photos via FX
Tell us what's wrong with this post? How could we improve it? :)
Let us improve this post!