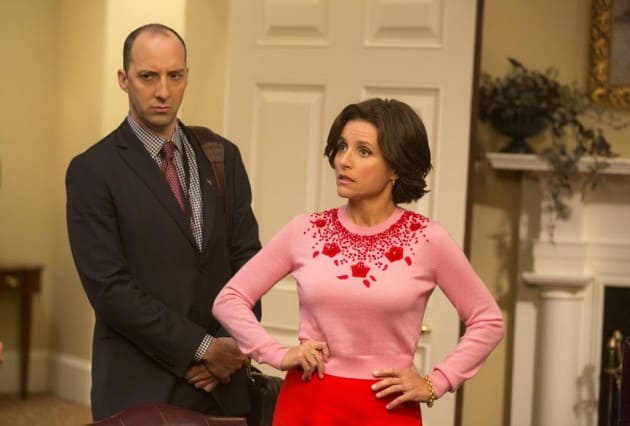 This week's episode of Veep opens with Selina addressing the country regarding her "Families First" legislation. In her continuing effort to prove what she is all about the bill she is pushing, she offers a few examples to validate why the initiative is vital. On that note, Selina mentions a few cases of kids who would benefit and goes into detail about a boy in Seattle, who asked Santa to teach him how to read, and a girl in Pinehill, Alabama, who is HIV positive and wants to be a ballerina.
Selina's speech is actually articulate and to the point; however, it causes a ripple effect when people from Pinehill put details together, and as a result, the girl she mentioned gets outed. Aside from that oversight creating controversy, this episode of Veep also signals how uneducated and ignorant people can be, since parents at the girl's school insist that they do not want their kids around her so that their children do not, as the eloquently put it, "catch AIDS." Though "Data" doesn't exactly tackle the issue of how uneducated, and thus how cruel, some people in America are, Veep remains faithful to its style, as most conflicts on the show are rooted in stupidity. This one is no exception.
While the press is having a field day and an eight year old is segregated, Bill Ericsson asks the rest of the staffers the right questions, those being how they got the medical records and why they didn't ask for permission from the parents before making the girl part of the speech. Initially, the consensus among Selina's team is to keep the POTUS in the dark, which, as a result, leaves her vulnerable to be blindsided.
When Selina meets some select members of the press, thinking that she can take advantage of the gathering and ask for some privacy for Catherine, she is bluntly questioned as to why Jennifer Graham, the eight-year-old girl, is not deserving of the same kind of treatment. Additionally, the media wants to know where the confidential data came from.
With the water coming close to everyone's head and many questions up in the air, Ben informs the team that there has been a data breach. In other words, no one should have ever known about Jennifer's condition, let alone made it public. Furthermore, the issue becomes finding the person responsible for the leak. However, Bill points out that given the large influx of data they have had, the culprit would be hard to find. Knowing how optics work, Selina points out that they don't need THE culprit, just A culprit. As everyone notes, that is not a problem since the White House has more than enough disposable staffers to fire. For all intents and purposes, the president then instructs Dan to go "sacrifice a virgin." He goes to Jonah, whom he sets up and puts in charge of the fireworks and music for an upcoming campaign event.
In the meantime, the story of Jennifer Graham gets heated up, and even the father of the girl claims that his daughter's life got ruined because of Selina's speech, a stigma that, naturally, gets associated to the bill. As a consequence, the "National Parents Group" pull back their support on the "Familes First" legislation, causing a domino effect that takes other donors out of the equation. Now Selina's interim term and her campaign are both vulnerable.
As if the conflict wasn't a powerful threat and a source of mockery enough, the VP's choice of song for his walk on at the event is less than fortunate given the circumstances. The man had selected Sting's "Every Breath You Take," a song that, as noted by Team Selina, has "I'll be watching you," a problematic lyric considering that the whole country remains vigilant after a breach exposed an innocent little girl's confidential records. In an attempt to avoid a classic song to accelerate the snowballing of "Datagate," Mike asks Jonah to change Doyle's music. The poor White House lackey and his assistant, Richard, try to switch the track and replace it with something from Richard's phone playlist. However, they are unsuccessful and Sting's song is played. As expected, more mockery ensues and the song even causes a hashtag effect that is reflected in the infamous and inflammatory #everylittlethingshedoesistragic. As a side note to that, once again, I have to bow to the writers. It is impeccable how they amalgamate pop culture, politics, and comedy.
Selina exits her rally with a defeated spirit, bleeding donors left and right. Understandably, no one wants to be in her database. As she makes her way out, the press assaults her with questions and the former Veep decides to make an impromptu statement. As she aims to convey that she didn't know about the breach but takes accountability and will find the culprit, the fireworks Jonah and Richard purchased go off, and her speech is ruined. Like most events in Veep everything that could go wrong, goes awfully, terribly awry.
With the press being blood thirsty and explanations to be given, Dan finally comes through and finds a scapegoat in Leigh, a young member of Selina's campaign who had been in proximity to the intel leaked. The poor sacrificial lamb is fired, yet the action does nothing to placate the press. Selina also loses another big fish's contribution, when the "American Family Group" pulls their plug on their support to "Families First."
As the team scrambles, they must confront the cruel reality: in order to restore some peace and gain credibility, they need to "cut the throat of a bigger goat." Leigh's dismissal is not close to enough. Dan, on his part, is ready to let go of Jonah, and Selina is on board; however, while Eagan is about to kick Jonah to the curb, the latter is miraculously surprised by his assistant, Richard, who tells Dan that the breach came from the campaign data.
In almost utter terror, Amy and Dan inform Selina that they mistakenly used stolen data as part of her campaign, which constitutes a federal crime. It becomes obvious that it is just a matter of time until the press gets to the bottom of things, which forces the whole team to regroup. Nevertheless, someone has to be fired, someone close to the POTUS. In a shocking turn, Ben says he is the one who has to go given that he's Meyer's "bigger airbag." He subsequently confides to Dan (hilariously, in men's room) that he is the one getting the ax. He also asks his co-worker not to spill the beans until the commander-in-chief makes an official announcement. However, Dan tells everyone at the White House gardens during the Easter Egg Hunt.
While the children look for eggs and Selina chit chats with a Marine dressed in costume as the Easter Bunny, Kent and Ben single out Dan and let him know that he must resign, since he has been part of the presidential campaign, and was also involved with the "Families First" initiative. On that regard, Ben's speech/threat is flawless, while Kent's admission that he cannot endorse but still acknowledges Ben's warning is priceless and very fitting.
With a last-minute change, Mike announces to the press that Dan Eagan has been terminated, while he also apologizes on behalf of Selina, assuring that the breach has been contained. Later on, Dan packs his desk and Jonah takes him out of the White House, through the south east gate, where the press harasses him. A small payback takes place, only so that Jonah can high five himself.
Finally, Amy comforts Selina as to why she changed her mind and decided to let Dan go instead of Ben. As it turns out, that was Bill's suggestion, which causes Amy to freak out, since she already knows that Bill is gunning for her job. As it is, Ericsson has clearly penetrated the team, and like any good strategist would affirm, there is no better plan than to destroy a group than from the inside.
A disgraced Dan, in the meantime, calls other candidates from his car, swallowing his pride. He knows he is doomed.
In the episode's B-plot, Catherine still feels persecuted by the press, as her private life has been invaded. The realization that her life can be miserable is coming to her very quickly and amidst mockery. In attempt to be taken seriously, the First Daughter tries to work with an anti-bullying charity, a plan that Selina shuts down, believing that it would reflect badly on her. Clearly, both Selina's personal life and her campaign have been taking hits.
All in all, the third episode of Veep's fourth season is consistent, resonant, and funny. It is admirable how the writers have displayed a series of small events that collide with Selina's motivation. The structure of the episode is more or less simple: Selina has a goal, which is to be elected president, so she sets in motion a plan, where "Families First" is key to help her get votes; however, obstacles get in her way, and her team struggles to find solid ways of dealing with the many problems she faces. The formula works because it is embraced, respected, and surrounded by good dialogue and stellar acting. As a result, the HBO show keeps proving that it has enough fuel to keep making Sunday night interesting.
Highlights:
– The Marine/Easter Bunny and Selina having a conversation about the war. Though their interaction is taken to the extreme, it works. It is practically impossible not to laugh and then feel bad when a giant fluffy thing explains some of the horrors he witnessed.
– Jonah and Richard getting fireworks and having a pseudo political discussion with the vendor was spot on. The essence of the dialogue felt a very D.C., a place, where, trust me, everything remotely political is under a magnifying glass, and whatever is not political is turned into a national endeavor, when at the end, it's money that does the talking.
– Dan enlightening Jonah regarding the sexual harassment he is being subjected to was not only necessary but also very well played. Hopefully, that piece of information will work as leverage for the recently fired man to get back on the saddle. One can only hope.
[Photo via HBO]