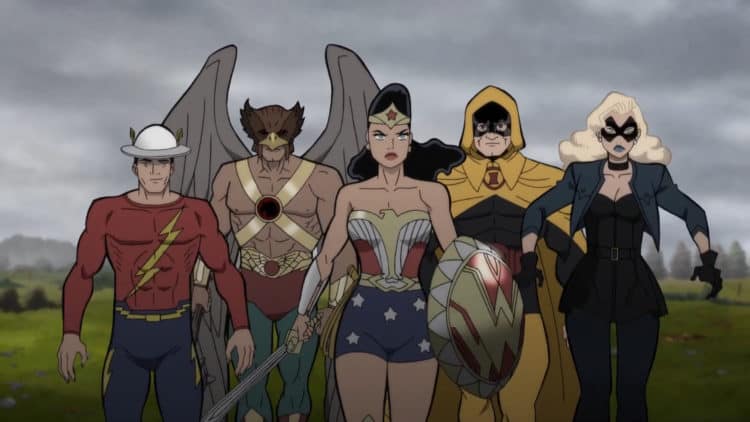 Before there was the Justice League, there was the king of superhero teams in the Golden Age of comics, the Justice Society of America. This team included the Jay Garrick, the original Flash, and Alan Scott, the original Green Lantern. When I say original, it really shows. Jay Garrick wears a tin hat with the little lighting bolts on them and Alan Scott's costume doesn't remotely resemble a Green Lantern uniform. Very corny costumes and simple backstories was how the whole superhero genre began, so hey, I'll take it. But when it comes to DC, the Justice League often takes the center stage for the ideal superhero team. That's okay, because I love the Justice League ever since the cartoon came out in the early 2000s. But let's face it, the Justice Society of America doesn't get the respect they very much deserve.
Well, DC animation has recently changed that. If you're a fan of the DC animated movies, I implore you to watch Justice Society: World War II. I won't give away too much of the story, but when I watched it, I couldn't help but think about an upcoming DC movie. If you've been watching the movies of the DC Cinematic Universe, you might have mixed feelings about them. That's rightfully so, considering it got off to a rocky start, but in my opinion, they have slowly found their footing. Let's hope they keep the momentum going with James Gunn's The Suicide Squad opening next month, but that's not the DCEU movie everyone's talking about.
You see, the upcoming DCEU movie that's got everyone curious is the Flash movie. I mean, let's just be grateful this movie is actually finally happening. When was it supposed to come out again? Oh, back in 2018 and it went through several directors. Well, at least it's finally happening now and it bagged a good director with Andy Muschietti at the helm. Why is everyone curious about it? It's probably because the Flash is doing what he usually does, including running so fast he goes back in time or messes up the timeline. The DCEU Flash movie will loosely adapt the Flashpoint storyline, which, if you're a comic fan, drastically altered the DC Universe. We can expect the same for the Flash movie, but Andy Muschietti confirmed his story will be different.
All I know is that when the Flash is involved, he has a tendency to use the speed force to change everything. Well, in Justice Society: World War II, guess what he does? He runs so fast, he literally travels to a different world. In that new world, he meets the Justice Society of America, the group of super-powered beings who fight Nazis during World War II. The leader of that team is a Russian version of Wonder Woman. She's like the regular Wonder Woman, as she fights like an Amazon and is capable of leading the Justice Society. Other members of the team include Jay Garrick, Black Canary, Hourman, Hawkman, and Steve Trevor.
This is only a small fraction of the roster that makes up the Justice Society of America. Speaking of which, there's another upcoming DCEU movie that will include a small handful of JSA members. I know I can't be the only one pumped up for The Rock's Black Adam movie. I mean, first of all, Black Adam. If you're a big DC comic nut, you'll get the hype. And in his first live-action appearance, he'll be fighting some Justice Society members, including the very underrated Hawkman. I'm beyond excited to see that fight, but I'm just wondering if the DCEU will bring in the rest of the Justice Society of America.
When I watched the Flash work with the team in the movie, I just thought to myself, "The DCEU can probably make this work". I mean, the Flash movie intends to bring in DC characters from other non-DCEU movies anyway. That tells me DC is willing to go to extreme lengths with the crossovers. But hey, even if they don't go overboard with the crossovers (yet), I do expect the Flash to travel to other dimensions. Come on, would expect anything else from the Flash?
Justice Society: World War II did well with giving us different versions of some popular DC superheroes. The elephant in the room was of course, the Wonder Woman with the Russian accent. And let's not leave out the original Flash, Jay Garrick. As far as we know, Barry Allen is the only Flash in the DCEU. Unless Jay Garrick just decided to retire, it's possible Barry can travel to a different Earth and meet him. Justice Society: World War II gave us a good feeling on what a first-time meeting between the two Flash's would be like. For instance, Jay Garrick made Barry realize that he could use his speed to phase through walls.
The DCEU Flash is just learning how to use the speed force. Meeting Jay Garrick, an older and more experienced Flash, could give him an opportunity to hone his powers and learn more about the speed force. And any DC fan knows that there are more Flashes than Barry Allen and Jay Garrick. Will we see Wally West join the Flash family anytime soon? It's possible, but let's see where Barry's story goes after his own movie. Even after his solo movie, I still expect him to run so fast he'll travel to other dimensions by accident. Will he meet alternate versions of characters he's already met?
In Justice Society: World War II, he got to work with an alternate version of Clark Kent, working with the military under the alias, Shakespeare. This Superman was raised in an orphanage when the Kents were killed in an accident. He doesn't become the ultimate superhero right away, but he does decide to fight for justice eventually. This is something the DCEU can take notes on. I would surely be interested in seeing different takes on popular DC characters. Ever imagine what Wonder Woman would be like if the Amazons went extinct? How about if Clark Kent was never raised by the Kents? That's something that can be done with the rest of the DC roster.
And if the Justice Society will make more prominent appearances in the DCEU, why not include their villains. The movie throws in a secret villain called The Advisor, but he's actually famous JSA villain, Psycho Pirate. This villain has a rather colorful outfit and can manipulate people's emotions. So if someone has angry thoughts towards a particular group of people, this villain can cause them to inflict violence upon that group. That's a dangerous villain to contend with and I would like to see a live-action version of that in the DCEU.
If you haven't watched Justice Society: World War II yet, I urge you to. It's a good watch, and the DCEU can learn a lot from it. I'm still very excited for the Flash movie.