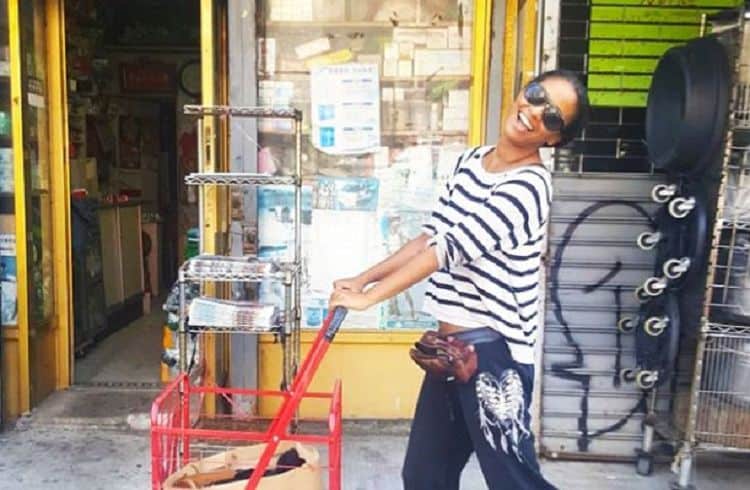 Since her breakthrough role in Denzel Washington's Antwone Fisher in 2002, actress Joy Bryant has built up an impressive body of work in both TV and film. Best known for playing Jasmine Trussel for 5 years on Parenthood, she can currently be seen as Marie Wallace in For Life. Find out more with these ten little facts.
1. She grew up with body insecurities
Hard though it may be to believe, Bryant was racked with insecurities growing up, with most of her self-doubt centering on her appearance. Unlike most of us, the problem for Bryant wasn't that she had more junk in the trunk than she'd have liked, it was that she didn't have enough. "I grew up in the South Bronx, in a predominantly Black and Latino community filled with superfly beauties whose bodies defied gravity," the actress wrote in a personal essay on Refinery 29. "I hated me: I was too damn skinny and I wanted to be thicker. I wanted t––, ass, flesh. I didn't want to be no stinkin' beanpole."
2. Modeling gave her validation
Before Bryant's acting career took off, she made her money by modeling. Not only was it a decent way to fund her college studies, it also gave her the validation she'd been so desperately seeking throughout her childhood. "I wanted to model because it validated me," she told People. "It meant I was 'legitimately' beautiful, perhaps even more beautiful than others. I got just what I always wanted: to be admired for what I looked like."
3. She's a brain-box
If you ever needed proof that models (or former models, in this case) are more than just pretty faces, just take a look at Bryant's academic record. "I read encyclopedias all day. My grandmother, who raised me, emphasized the importance of education. For me it was about being self-sufficient and using my brain," Bryant has recalled of her childhood. Judging from how she was accepted by both the Fieldston Enrichment Program (an elite high school preparatory program) and Yale University, her grandmother's teachings clearly had the desired effect.
4. Her Net Worth
At the age of 45, Bryant has enjoyed the kind of career every young kid with dreams of becoming an actor long's for. With a series of hugely successful TV shows and films behind her (not to mention the upcoming role of Marie Wallace in For Life in front of her), she's been an almost permanent fixture on our screens for the best part of two decades. And a work ethic like that doesn't come without its rewards. According to Celebrity Net Worth, Bryant's reward for her endeavors is the very respectable net worth of $2 million.
5. She hates Christmas
If you're visiting the Bryant household at Christmas, don't expect to be greeted with a wreath at the door or a selection of Christmas carols. "I'm kind of a 'bah, humbug' (person)," she tells People. "I hate Christmas, really. I don't really give presents away or expect any. I'll give cookies and books. My aunt makes really awesome cookies, so I'll give cookie packages. All that gift stuff is for the kids, and actually, when I have them, they might not get presents: 'You'll get a college education and you'll like it!' "
6. She's head of a clothing line
As though her acting career wasn't enough to keep her occupied, Bryant has been busy dappling in select little side ventures over recent years, chief among them being a clothing line called Basic Terrain. Bryant launched the brand in 2014 alongside her husband, Dave Pope. The line hit the ground running: within just a few months of its release, it was being sold everywhere from Satine and Scoop to Urban Zen and Fred Segal.
7. She's Me Too-ing for her mom
In November 2017, Bryant stepped forward to reveal she's the product of a sexual assault. In a touching essay for Lenny Letters, the star shared that her mom, Joyce, fell pregnant after being raped by an older man. Unable to share what had happened to her, Joyce, who was only 15 at the time, kept the pregnancy secret for 6 months before finally telling her mother. Still a child herself, Joyce relinquished control of Joy's upbringing to her mother, a decision Bryant understands all too well. "Her story is one of stolen innocence and lost potential," she wrote, "a record of pain spun on a never-ending loop. Her story is sadly the story of so many."
8. She's got no plans for kids
Bryant married her partner, stuntman Dave Pope, in June 2008. Despite being married for 12 years, the couple has yet to welcome the pitter-patter of tiny feet. If Bryant has her way, they never will… even if it means constantly facing questions from "well-meaning" folk about her decision to remain childless. 'I, as the recipient, must keep my cool and either explain myself or gracefully defend myself,' she's said about the relentless questioning. 'They're lucky I'm a classy broad. I know people don't mean any harm, but this really shouldn't be an issue at all, because what I choose to do or not do with my womb should be of no concern to anyone but my husband.'
9. She's an ambassador for Oxfam
Bryant has long been active on the charity front, and currently serves as an ambassador for Oxfam's Sisters on the Planet (SOP), a foundation dedicated to helping women around the world fight poverty, hunger, and climate change. As part of her activities with the foundation, Bryant has traveled to Cambodia to meet women farmers on the front line of climate change, and has also lobbied for smarter disaster policy in Washington DC.
10. She loves a bit of reality TV
If we're honest, we all have a guilty pleasure or two that we're a little embarrassed to admit in public. Bryant's secret little indulgence comes in the form of reality TV shows, with Wild Man on Animal Planet being her favorite.