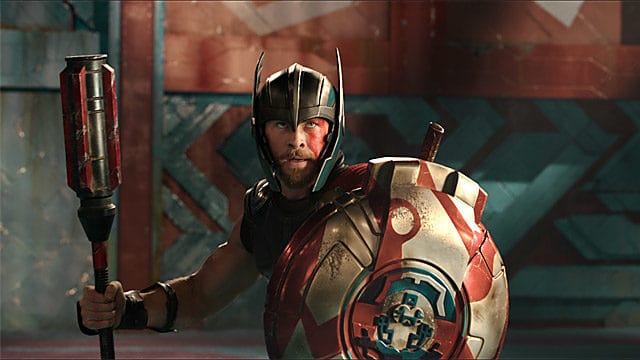 When it comes to the world of superhero movies, few voices ring with more authority than Joss Whedon. So when he approves of something, you know that it has to be on the level.
After all, he did direct the first two Avengers movies: bringing the genre into the 21st century by making team-ups, crossovers and shared universes the gold standard of the day. His five-year run on Astonishing X-Men was legendary, whose plot was partially co-opted into the third X-Men movie. He lampooned the genre with the infectious Doctor Horrible's Sing-Along Blog and is set to direct Warner Bros' upcoming Batgirl movie. And when Zack Snyder dropped out of Justice League's post-production, Joss was the one who took over for him.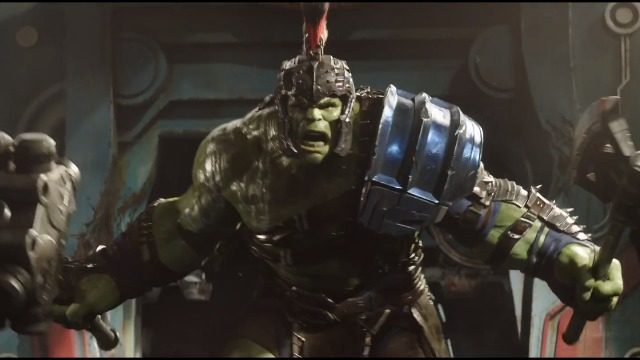 It's no secret that ahead of its commercial release, Thor: Ragnarok has been sweeping critics off of their feet. With nearly a hundred reviews, it currently holds a "certified fresh" score of 95% on review aggregator Rotten Tomatoes, making it the highest rated superhero movie of all time: better than Superman, Batman, The Dark Knight, Wonder Woman, Iron Man, The Avengers or Guardians of the Galaxy. They've praised it particularly for being "exciting, funny, and above all fun, Thor: Ragnarok is a colorful cosmic adventure that sets a new standard for its franchise — and the rest of the Marvel Cinematic Universe."
Having now seen the movie for himself, Whedon had a few things to say about it. Taking to Twitter, the Avengers director praised the film for being "a modern masterpieces." He further called the movie "epic, hilarious, gorgeous [and] heartfelt."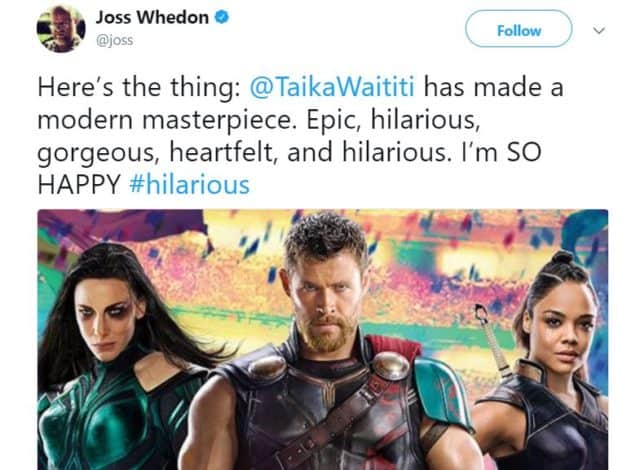 That's particularly high praise coming from a man whose most recent film, Justice League, is coming out just two weeks after the fact: hot on the heels of Marvel's third (and apparently best) Thor movie. While he's not sharing director credit for his contributions to the film — which, by all accounts, were extensive and essentially remade the movie from the ground up — and while he did previously work for Marvel, it's not the kind of thing you'd expect to hear from the man who, by all modern accounts, is your direct competitor.
Thor: Ragnarok releases this Friday, so we'll all be able to see for ourselves then whether the movie lives up to the hype or not. Based on everything that's been streaming in through the grapevine — from critics and filmmakers alike — it looks like the movie might be the new best movie of the MCU.
Tell us what's wrong with this post? How could we improve it? :)
Let us improve this post!