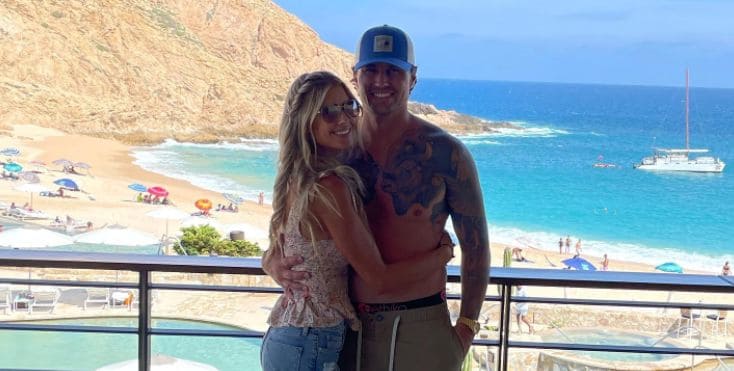 He's been doing a fairly decent job of staying out of the public eye despite the public wanting to know everything there is to know about him. He first made it into the tabloids in the summer of 2021 when he was spotted in the airport holding hands with a famous face. The world instantly knew his face, and they clamored to know his name. Who was holding hands with a newly divorced reality star? His name was released, and before much longer, everyone wanted to know who he is – and we can tell you all you need to know about Joshua Hall.
1. He is a Realtor
He's been working as a real estate agent for a few years. He was most recently working in Texas, and he still has a license. However, he is no longer living and working in Texas but in Southern California instead. He is not just a real estate agent, however. He is also an investor.
2. He is a Business Owner
He can add entrepreneur to his resume, too. He and his wife began their own production company, and they are calling it Unbroken Productions. They went into business together in March of 2022, and things seem to be going well.
3. He's Got a Famous Wife
If his name sounds familiar, it's because he's married to a famous woman. He married Christina El Moussa, Christina Anstead, or Christina Haack. She is famous for her reality television show alongside her former husband Tarek El Moussa, and the couple really worked hard to build their brand before their 2016 divorce. She remarried television star Ant Anstead later. She began dating hall following her divorce from her second husband.
4. He is a Californian
We did mention he was selling real estate in Texas, but he grew up in California prior to his move to Texas a few years ago. He is a California boy born and raised. He went to high school here, and he even went to college in Santa Monica.
5. He is a Retired Officer of the Law
Prior to his career in real estate, he was a man of the law. He was a police officer. However, he could not continue with the job because he was dealt with some serious injuries that prevented him from working. He was an officer for 16 years from the time he was 21 until he was 37. It was difficult for him to leave.
6. He's a Football Fan
Ironically, he's not a fan of any of his local teams. He lived and worked in Austin, he grew up in California, and he is a Green Bay Packer. He chooses to cheer for a team in Wisconsin even though he himself is not a man who spent that kind of time in the snow and the cold, but who can fault him? We all have our teams.
7. He Has Famous Sisters
Kind of, anyway. His sister, Stacie Adams, is famous because she was on The Hills in seasons five and six. She even served as a bridesmaid in the 2014 wedding of Scheana Shay (from Vanderpump Rules). His other sister is Jessica Hall who was also on The Hills from time to time, she also worked as a girl with a briefcase on the hit game show Deal or No Deal, and she was part of the Kendra and Kendra on Top reality shows because she's been a longtime friend of former The Girls Next Door star Kendra Wilkinson. That's a lot.
8. This is His Second Wedding
His wife has been married twice before, but he's not a first time groom himself. He wed someone back in 2016, and it seems that she might be the reason he left California for Austin. He lived there with her, and we hear that she still lives there. We don't know when they divorced or why.
9. He's Kind of Private
It seems that he is not someone who likes to discuss his social life all that often, so he doesn't. He does share work and a few things online, but nothing like you might hope if you are a newfound fan hoping to learn more about him. He's a little more private than that.
10. He's Newly Famous
It wasn't even a year ago yet that he saw his face in the magazines for the first time as a nameless man holding Christina Haack's hand walking through LAX on a trip together. Now he's her husband, they are happily married and thriving, and he is taking it all in stride.
Tell us what's wrong with this post? How could we improve it? :)
Let us improve this post!