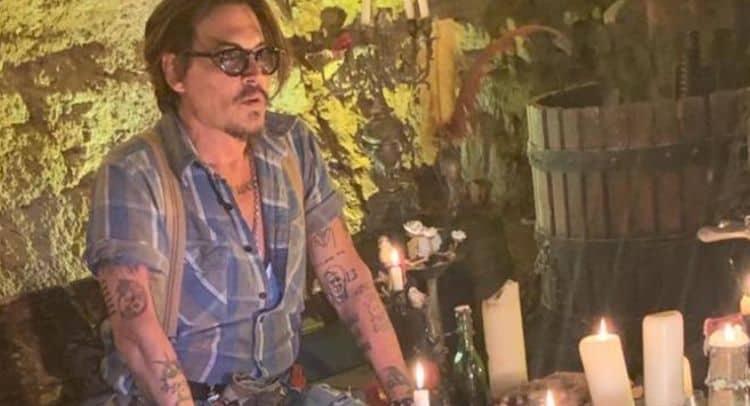 Johnny Depp joining Instagram isn't really the weird part about this since as a lot of people should be able to imagine, he managed to gain almost two million followers within an hour or so. That's not at all surprising or weird since the star has been in the spotlight for a while now thanks to his messy divorce from Amber Heard that has gained attention from fans and non-fans alike, dividing people down the line as to who is really in the wrong as a lot of folks have stuck by Depp throughout the whole debacle. But as per Depp's explanation he's now coming to social media in order to spread his own message to the world, which is similar to many of those that have delivered on PSA after another, and has contributed a song with his friend, guitarist Jeff Beck, that he wants to share with people. None of that is too weird as Rokas Laurinavicius and Mindaugus Balciauskas of BoredPanda might agree, but his setting and the fact that the song is about isolation are a bit odd since in this time one would think that a celebrity might want to help lift up the people that are looking to him for inspiration, not remind them just why life is kind of difficult at the moment. But hey, everyone is helping in their own manner, and it's usually a matter of perspective that allows people to determine if a message is received in the right way or not.
His setting is a bit weird since it does look as though he's broadcasting from a cave of sorts. Depp has proven himself to be very eccentric throughout the years and trying to predict anything he's about to do is more than a little difficult, but jumping on social media is definitely something that a lot of people have taken to doing simply to ease the public's unease at being asked to stay in their homes as much as possible. This might not be so bad if people had the financial means to do so, but many of those that have been put out of work due to their jobs being seen as non-essential have been suffering the last few weeks, and even with a stimulus package there's not a lot of relief that comes from a one-time payment that might be there and gone the moment it arrives, a lot of people have likely used this to catch up on bills or possibly feed their families. It's a bit of a dark time right now, and the uncertainty within America is very high since the coronavirus and America's reaction to it have both shut things down in a big way, attacking the supposed normalcy that many people have grown used to and in many ways take for granted. Depp's attempt to cheer us up, odd as it is with a song about isolation, is still an attempt all the same to help people get by as the millions of followers he's accrued online in a very short time would likely testify to. Patrick Brzeski of The Hollywood Reporter has more to say on this matter.
Another thing that's odd, to me and hopefully to others, comes from the fact that many people in our lives, be they famous or not, have likely said that 'we'll get through this', or 'we're in this together', and even 'keep your head up, we'll make do'. What's startling and alarming is that if someone that's not famous says this, many upon many people might take it as 'meh' and not think about it for another second. Some might take the encouragement and keep pushing forward and some might just discount it at face value. But the moment a celebrity, politician, or anyone in the public eye pipes up, such words are taken as gospel by many upon many individuals who have heard the same words from many different mouths already. Somehow celebrities within many fields are to be listened to, revered, and believed when the words come spilling from their lips, and their contributions, well-meant and definitely appreciated, gather the people in a flock to their websites again and again. In a way the celebrities that speak the same words as everyone else become the saviors of humanity, if only for a short time, simply because they are well-known to so many and because people, for one reason or another, can't get it through their heads that the celebrities are in the same boat, if only with many more resources and a great deal more comfort. It's been great to see celebrities helping out and encouraging people to hold their heads up, but all in all, they're people as well, trying to get through the current pandemic and doing so in whatever way that they can, just like anyone else. Their kind words and help are easy to accept, but they're not gospel. Alex Proud of the Telegraph has his own opinion on this topic.