Thursday on Days of Our Lives, we see a bit more of a character we haven't discussed much recently as is storyline hasn't been as big as the main storylines currently going on in this small city. We see Brady and his dreams. We've been following his dreams for a few weeks now, but they are becoming more and more intense and a bigger focal point in the story line. He cannot stop thinking about Nicole. He also cannot stop thinking abou this new heart — likely the guilt over how he ended up with the heart. When he tells Nicole what is happening to him, she is just as worried about it as he and she wants some more definitive answers about what it is that is going on in their lives. Brady has already started to believe that having Daniel's heart inside his body has changed him so that he feels Daniel's emotions. Now Nicole seems to be on board with the same train of thought. Is it even possible?
Ciara is not quite sure what is happening between her mother and Rafe, and she begins to wonder if perhaps there is some romance there. Of course, we see as she begins to wonder this on Thursday's episode, but we already know that there is some romance there. We saw them kiss earlier in the week, and we know that these two are on to something big. However, we also saw as Andre found some information about Stefano that might mean horrible things for Hope. She's already confessed to one murder, and she got away with it by claiming her actions were in self-defense. So while we sit here and watch her daughter sort out what is happening between her mother and Rafe following the kiss she doesn't even know about, we continue to wonder if she will even be a free woman for much longer. Rafe knows that Andre had the blood on the statue analyzed and found out it was Stefano's, but Rafe was quick to play it off as it being possible since everything in the house is covered in blood thanks to the diabetic shots he had to give himself every single day. He maintains he believed that Stefano skipped town and that he's done it more than once.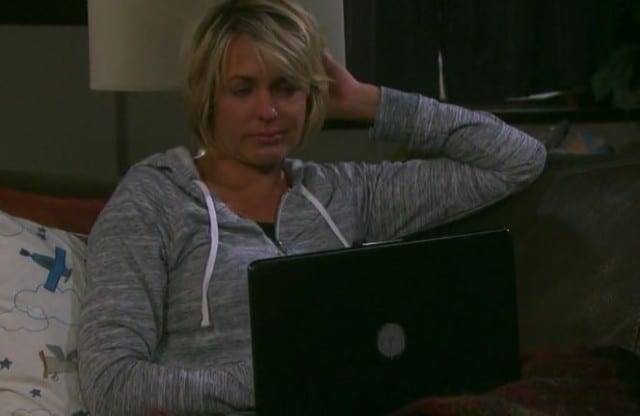 Perhaps the biggest storyline on Thursday, however, is John's. He found his mother, Maude, and we are all pretty certain she is who she says she is; at least biologically. She was able to prove her identity to John by mentioning his birth mark. Now that he is speaking with her about his past, he continues to learn more and more, and he gets to meet Maude's friend. He's not sure about Maude's friend; something seems significantly off with the friend, but John is just too excited and too overwhelmed with everything he has learned to really care too much what he has learned or not learned just yet.
He should have been a bit more concerned about this friend and the situation in which he finds himself, as we see him pass out and slide to the floor after his tea is laced. Thursday is not a good day for John. His mother and her friend are clearly working with ulterior motives, and they are willing to harm him for whatever it is that they want to find. It's a good thing for John that he has some past experience with things like this and he is able to save himself from the situation. Now he has no idea whether or not his mother was in on this or if it was just the companion that is responsible for spiking his tea and knocking him out when he was not suspecting it.
Following his conversation with his daughter about school, Shawn is hoping that Belle will return home from Vegas with Philip and provide him with an answer about their relationship. She was shocked about his phone call asking to get back together, especially considering she was spending the night with Philip, but she seems open to the idea. Additionally, we saw a bit more of Deimos working his way through the town to figure out how to take his revenge on Victor, who continues to dissect his story of Deimos with Maggie.
Photo Credit – YouTube