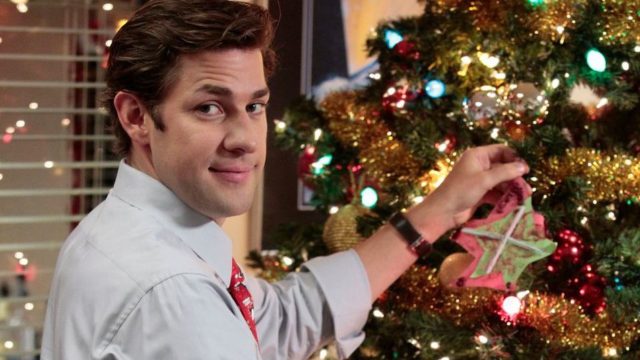 To heck with a reboot, John Krasinski just wants a Christmas special of The Office as a way to return to the magic if just for a short time with the cast. It's a much better idea than rebooting the show, which is one of the only programs that's managed to go out on its own terms rather than be cancelled or changed some ill-conceived manner. As of right now he's pretty busy and it's fair to say that a lot of the cast have their own things going but a Christmas special seems to be something that could possibly happen. After all it'd be one episode likely, a longer episode to be certain, but it would also be a kind of thing to see where everyone's at and how they're doing.
The Office was something of a phenomenon since it had the kind of believable characters that were still over the top but were done in a way that was easy to like. Of course everything that happened in the show couldn't possibly happen in real life without any consequence, but that's the beauty of a sitcom, they get away with things we only dream about most of the time. And the real joy of it is that a lot of us could see ourselves doing these things at work if there wasn't a fear of any reprisals. The Office was the kind of show that allowed us to just sit back and identify with a show that seemed to know what we were thinking and sympathize in a way. Bringing it back for a Christmas special would be a way better idea than any other kind of long-winded showing that might muddy the feeling and the point of it.
Getting the entire cast back might be difficult depending on what they were all doing at the time, since most of the cast went on to do other projects and expand their careers in ways that might have created more of a demand for their services. Krasinski has been a busy man since the show and is at this time showing up in the movie A Quiet Place alongside his real life wife Emily Blunt. He's come a long way since The Office, as have a lot of people. But bringing them all back just for one hurrah would inevitably lead to a desire to do it again in another year or two, and then another year or two after that. There's nothing wrong with wanting to see how your favorite TV stars have ended up, in fact it's kind of cool to see them all together again and see how their characters might have developed in all the time they've been apart.
The Office is a show that shouldn't be brought back even though there have been talks about, and largely because it wasn't ended on a sour note that left people wanting an explanation. It was allowed to go out with dignity. That's why a Christmas special is such a good idea.