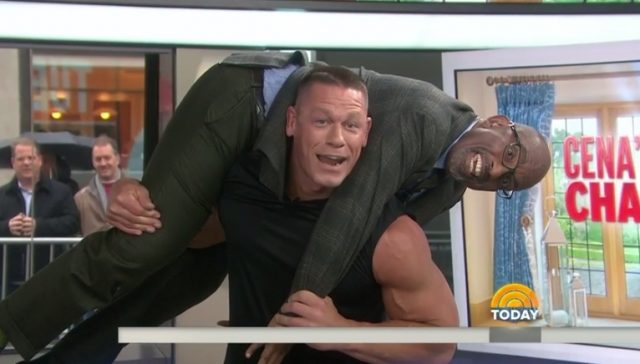 It's been a very long time since John Cena was known as just being the star of the WWE. In fact you'd be hard pressed to remember that his original persona on the WWE was that of a rapper. Talk about coming a long way since then. Cena's gone the Michael Strahan route career wise. While he's still a staple of the WWE, Cena's turned to acting, promoting good causes, and frankly just being charming and hilarious. Did you see him in Trainwreck? The guy's a riot.
So it should come as no surprise to learn that John Cena has been co-hosting The Today Show. As part of a "John Cena Fitness Challenge" segment, Cena showed his co-hosts and some guests moves to get the buns they desire. As one of the workout methods to achieve steel glutes Cena mentioned an exercise he lives and dies by: the squat. Only instead of showing the audience the exercise with weights or any assistance, he hoisted up Al Roker onto his shoulders to show everyone the correct form.
While this is a "new" Al Roker, a more fit one if you will, it's still a challenge and Cena seemed to have absolutely no problem using correct form. I will say this though. Watching this video didn't really encourage me to get up any more than I do now. Still though, Cena is one funny dude.