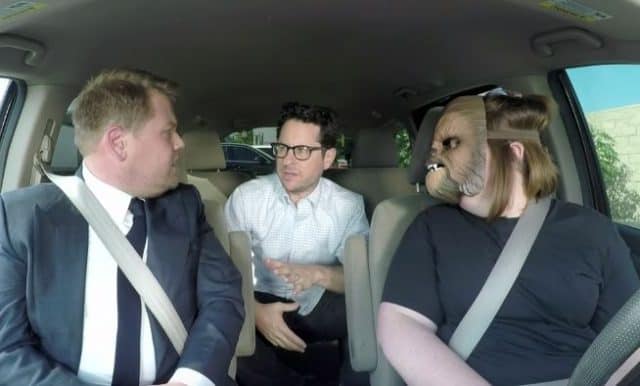 Chewbacca Mom, aka Candace Payne, was on The Late Late Show With James Corden last night, and she received a surprise visit from a very important person in the Star Wars community. So who showed up on the show to meet Payne? Well, as you probably could have guessed from the headline, it was Star Wars: The Force Awakens director J.J. Abrams.
It all happens in the video below, which is set up like a Carpool Karaoke video, with Chewbacca Mom driving James Corden to work. However, when Corden begins to get a little fed up with her antics, even telling her that the mask doesn't sound anything like Chewbacca, Abrams appears and disagrees with the Late Late Show host before giving both of them some Wookie tips and showing them the "correct form" for growling like Chewie.
However, as much fun as the video above is, I'm not quite sure if it tops the one below, in which Corden reads the message that Chewbacca himself, Peter Mayhew, sent to Payne after he saw her video. Plus, the video below also features a clip from when Payne first met J.J. Abrams before her and Corden's skit, and her immediate reaction to meeting him is absolutely priceless.
[Photo via YouTube]