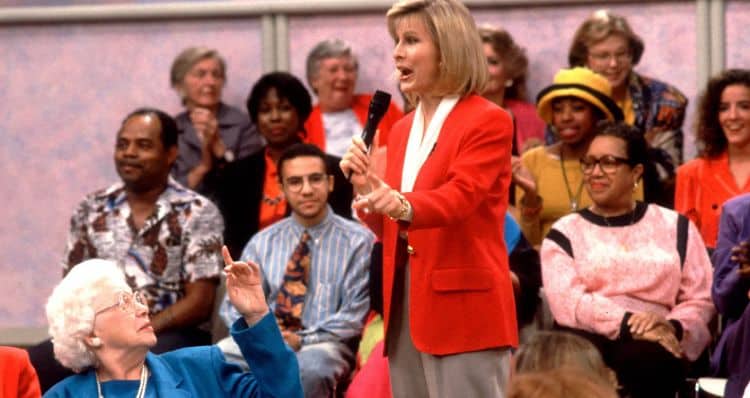 All throughout the 90s, Jenny Jones was one of the most talked about people in daytime TV. Her talk show, The Jenny Jones Show, aired from 1991 to 2003. The show covered a wide variety of topics such as makeovers, paternity tests, and performances. Although it's been nearly 20 years since the show's final episode, Jenny Jones has recently been in the media thanks to Netflix's new true crime series, Trial By Murder. Jenny no longer works in the TV industry, but she's still got a lot of things going on. Continue reading for 10 things you didn't know about Jenny Jones.
1. She Was Born In Bethlehem
Jenny Jones had a very interesting upbringing that included being immersed in cultures from all over the world. Shewas born Bethlehem in 1946. Her parents were Polish immigrants and her given name is Janina Stronski.
2. She Has A YouTube Channel
Jenny's days on TV may be over, but she's still making appearances on a screen near you. In recent years, she's decided to share her passion for cooking with the world. She has a popular YouTube channel called Jenny Can Cook where she shares all sorts of recipes and makes a variety of dishes for her viewers. The channel currently has 964,000 subscribers and more than 95 million total views.
3. She Used To Be A Model
Over the years, Jenny has had lots of interesting jobs. Her life has literally been the definition of YOLO, and she has made the most of all of the different opportunities that have come her way. According to her website, she once worked as a model. However, she didn't specify what kind of modeling she did.
4. She Crew Up In Canada
Jenny Jones has lived several places throughout her lifetime. She moved to Canada as a child and grew up in Ontario. She was raised in a very strict Catholic household and her parents owned a local bridal shop. When she was just 17-years-old, she moved away from home.
5. She Was In A Band
After leaving home, Jenny became a drummer in a rock band. From there, she joined an all girls band where she also played the drums. Her musical talents would eventually give her the opportunity to sing background for Wayne Newton.
6. She's A Comedian
After spending years in the music world, Jenny decided to try her luck at something new. She began performing stand-up comedy routines in Los Angeles. In 1986, she appeared on the TV show, Star Search and won the grand prize. She created a very successful comedy show called "Girls' Night Out" which catered to female audiences. The show became so popular that Jenny made appearances on shows like Larry King Live and 20/20.
7. She Lives A Healthy Lifestyle
No matter where Jenny has gone in life, one thing has always remained consistent: her love for good food. She has always been adamant about making healthy food choices. She says that the food she eats has contributed to her rarely getting sick of the years. Now that she spends a lot of time cooking, she always makes it a point to prepare healthy dishes.
8. She Doesn't Believe In Diets
Even though Jenny believes in healthy eating, she isn't a fan of diets. She says, "Every time another trendy diet fails, it comes back to consistently healthy, clean eating. That's what I've always done and I have maintained my weight and have never missed a day of work in my life."
9. She Was Sued For Wrongful Death
In 1999, The Jenny Jones Show was sued for wrongful death for the murder of Scott Amedure. Scott was a guest on Jenny's show in 1995 along with his friend, Scott Jonathan Schmitz. On the show, Scott revealed that he had a secret crush Schmitz. Although Schmitz knew that the show would reveal a secret admirer, he had no idea that it would be his male friend. A few days after the show was taped, Scott allegedly left a suggestive note for Jonathan. Shortly after, Jonathan questioned Scott about the note and ultimately murdered him. Scott's family felt that The Jenny Jones Show was responsible for creating the situation that led to his death.
10. She's A Philanthropist
Jenny Jones loves to give back to others and she has donated millions of dollars to various causes throughout the years. She is particularly dedicated to supporting first responders in Ontario. Her website, Jenny's Heroes, is dedicated to raising money for local first responders.
Tell us what's wrong with this post? How could we improve it? :)
Let us improve this post!