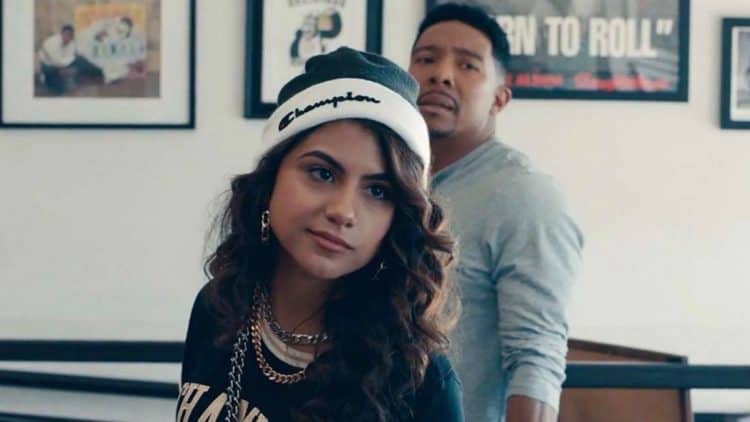 Sometimes it can take a while for an actor to finally see their hard work pay off, but Jearnest Corchado's patience has certainly worked in her favor. The young actress has been in the industry for nearly a decade, but it wasn't until recently that she started to get the attention she deserves, and now people can't get enough of her. Jearnest is best-known for her role as Marisol in the Apple TV series Little America. She was also cast in the new Netflix series, Sneakerheads. Needless to say, 2020 has been a huge year for Jearnest and we have a strong feeling that she's nowhere near finished yet. Continue reading for 10 things you didn't know about Jearnest Corchado.
1. She Loves To Inspire The Youth
As an actress, Jearnest always wants to make sure she's keeping her viewers entertained, but that isn't the only the only goal she has for her work. She is also very passionate about inspiring the youth. She wants to show young people all over the world –especially those of color — that their dreams can come true.
2. She's A Musician
Jearnest is multi-talented and music is another one of the things she's passionate about. She told Nylon, "I've been working on an album. This happened out of nowhere. I love music. I've always been writing music. About a year ago, I decided I might want to pursue this but I never had the chance. I was always working on acting projects. And this pandemic, in a way, paused everything. It stopped the whole industry. It gave me a lot of inspiration, as well. A lot of emotions that I needed to put on paper."
3. She's A Cal State Alum
Even though things have been busy for Jearnest over the last few years, she still took the time to have as much of a traditional college experience as she could. She attended California State University, Los Angeles where she studied television, film, and media.
4. She Loves Poetry
As a creative person to her core, acting and music aren't the only forms of expression that Jearnest loves. She is also a big fan of poetry. It's unclear whether or not she writes poems herself, but she loves to share photos of some of her favorite pieces with her followers on Instagram.
5. She Was Born And Raised In Puerto Rico
Jearnest called Los Angeles home these days, but she was born and raised in Puerto Rico and speaks fluent Spanish. No matter how far she travels from home, Jearnest will always have lots of love and appreciation for her home and the culture that made her who she is.
6. She's Also A Filmmaker
Being in front of the camera is what has gotten Jearnest the most attention so far, but her long term dream is to be on the other side of the entertainment industry. In addition to acting, she is also a filmmaker. According to IMDB, she already has three production credits to her name as well as one writing credit.
7. Her Parents Are Her Biggest Inspirations
Every creative person needs to find people and things that inspire them. For Jearnest, her biggest source of inspiration has always been her parents. When talking about her parents she told Naluda Magazine, "They both have taught me a completely different set of skills, consciously and unconsciously, that have made me the strong charismatic person I am today…"
8. She Started A YouTube Channel
Jearnest isn't technically a YouTuber, but she does have a channel where she has uploaded a few videos. Currently, the channel has just 228 subscribers and less than 3,000 total views. It's been a few months since her last upload and there's no information on whether or not she plans to get back into YouTubing.
9. She Is A Very Optimistic Person
A little bit of optimism goes a long way in a field like entertainment. People who are able to see the bright side of things are more likely to be able to bounce back when things don't go their way. During her interview with Naluda Magazine, Jearnest shared that she is a very optimistic person and she always likes to dream big.
10. She Loves Yoga
Staying active is one of the most important ingredients to good mental and physical health. When you have a schedule as busy as Jearnest's, it's not always easy to stay active but she loves to squeeze in some yoga sessions when she can. Not only does yoga serve as exercise, but it's also a good way for her to decompress and center herself.