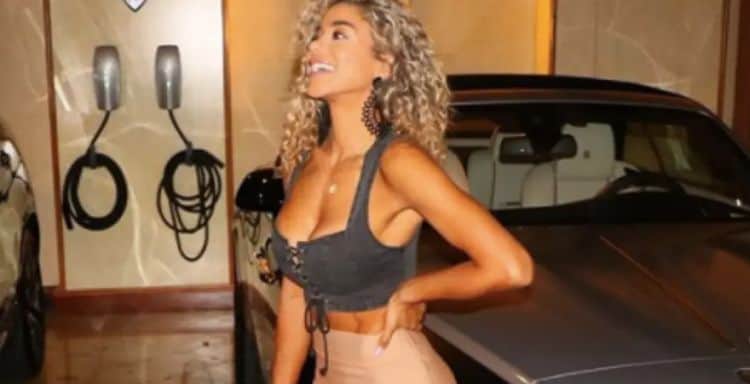 After appearing as a "friend" in the first season of Married to Medicine Los Angeles, Jazmin Johnson is officially a member of the cast and she's on her way to becoming a star. Now that she'll have more camera time, fans will get the chance to learn more about Jazmin and she's excited to share her story with the world. Although some people may think that Jazmin's entire identity is connected to her marriage, she's ready to prove that that isn't the case. Here are 10 things you didn't know about Jazmin Johnson from Married to Medicine Los Angeles.
1. She's From Inglewood
Jazmin Johnson is one of the hometown girls on the cast of Married to Medicine Los Angeles. She was born and raised in Inglewood, California. However, she currently lives in a beautiful villa in Beverly Hills with her family.
2. Her Husband Is A Psychiatrist
Jazmin is married to Dr. Gadson Johnson who is a psychiatrist in the Los Angeles area. The couple has one son together. Being married to a successful person can often cause you to get lost in their shadow and Jazmin is determined to step outside of her husband's shadow and create her own lane.
3. She's Really Into Fitness
Staying healthy and fit are two things that are at the top of Jazmin's priority list. She is a fitness enthusiast who spends a lot of time working out and she definitely goes hard when it comes to her workout routine. When she isn't in the gym, she's creating content for her blog where she shares lots of helpful fitness tips.
4. She Had A Close Relationship With Her Grandmother
Family has always been important to Jazmin. She grew up having a very close bond with her grandmother which inspired her to become the woman she is today. Jazmin said that her grandmother "was most known for her unique way of making everyone feel like family, feel at home, & feel happy! Witnessing her in action & admiring her unique ability to provide a memorable level of hospitality to everyone, rubbed off on me."
5. She Thinks Everyone Should Make Time For Fun
If you've seen her on TV, you probably noticed thatJazmin is a big ball of energy. She is all about living life to the fullest, and she encourages other people to do the same. She believes that it's important for everyone to have fun and she lives by this philosophy in her own life.
6. She Believes Resilience Is The Key To Success
Achieving success requires a lot of different factors. In Jazmin's opinion, the most important ingredient for success if resilience. She says, "Resilience is necessary to succeed in business. Difficulties and set backs will happen, and without resilience it will be hard to make it through them."
7. She's An Entrepreneur
In addition to being a wife and mother, Jazmin Johnson is also a boss. She runs a business called The Lifestyle Concierge which is a party and event planning business. Through The Lifestyle Concierge, Jazmin gets to express her love for extravagant parties by helping other people create the most memorable experiences for their friends and family.
8. She Studied At California State
Anyone who thinks Jazmin's biggest accomplishment is marrying a doctor, should probably think again. Jazmin attended California State University, Long Beach where she earned a bachelor's degree in human development. Although her current career path doesn't directly relate to her degree, Jazmin's intelligence and work ethic are sure to take her wherever she wants to go.
9. She Loves To Motivate Others
From the outside looking in, it may be easy to assume that Jazmin is stuck up. However, that couldn't be any further from the truth. Jazmin loves connect with her supporters and she users her platform to spread good vibes and inspire others. Whether it be fitness tips or dietary advice, Jazmin loves to help others feel motivated to to make positive changes in their lives.
10. She's An Up And Coming YouTuber
In recent years, YouTube has become one of the most popular video sharing platforms in the world. Jazmin isn't a huge YouTube star yet, but she's hoping to get there some day. She started a YouTube channel at the beginning of 2020 called LS The Lifestyle. So far, she has gained almost 400 subscribers and a little over 2,000 views. Jazmin's content consists of vlogs and health and fitness tips.
Tell us what's wrong with this post? How could we improve it? :)
Let us improve this post!