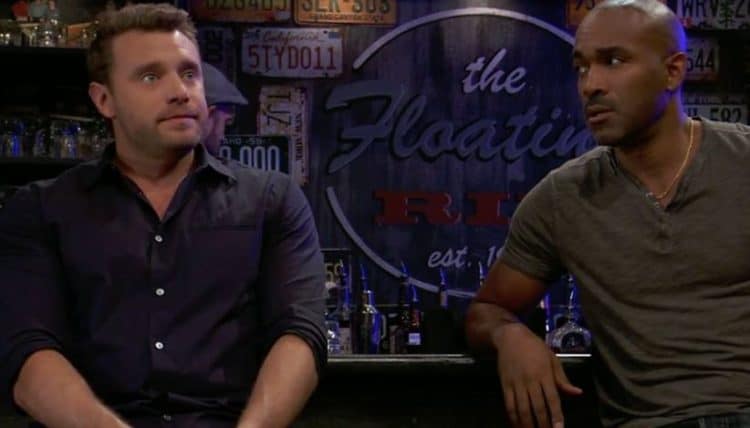 General Hospital fans are not sure what to think about Valentin, and we want to focus on him for a moment. We've been watching him struggle for a while now with Nina. She was all over trying to make their marriage work for years, but he was not able to give her what she wanted. Then she decided she was just plain tired of sitting around waiting on him, so she moved on. She decided she was done with him and wanted nothing to do with being his wife anymore. He was shocked, to say the least, and now she's got to make a decision. She gave him some time to try and decide what he wanted to do and how he wanted to proceed, and she allowed him to try and fix things even though she was already basically checked out of their marriage.
His time is well past up this week, and she's left with a decision. But we are focusing less on that and more on the fact that now he has learned a few things about her that he didn't know, and he's shocked. He's so hurt and upset and so regretful of things that are part of his life right now that he doesn't even know where to begin. His life is not what he thought it would be, and her life is even more of a mess than he ever imagined. He has turned to Curtis for some help in some areas of his life he wants to fix, and he needed his friend to help him find out what happened in this situation. Can he help his wife find out what happened and bring her some information, and if he does — will she forgive him and allow him to remain a part of her life and her husband?
What's Happening on General Hospital
Margaux challenges Peter's new authority! @Theehendrickson @wesramsey @GeneralHospital #GH

— Frank Valentini (@valentinifrank) August 22, 2018
We don't know about you, but we love a good challenge. We love it even more when that challenge is against someone with some authority and we know the challenge is reasonable. Here is a situation in which we are down with it, and we cannot wait to see things get a little more interesting between these two as time goes on. She's going to continue with her questions and her challenges, and he has to face it and deal with it as he has this newfound power.
What's Next on General Hospital
"What happened to Nina's baby?" #GH55 pic.twitter.com/5NDUBDUSVR

— General Hospital (@GeneralHospital) August 21, 2018
Drew has a new friend, and it's been good for him. He's been in such a bad place since losing Sam and all that came along with his issues, and now he is moving on with his new friend and his new life and feeling confident about the way things are going in his life. He is happy and content right now, but we predict that won't last. As a matter of fact, we know it won't since he is going to have a conversation with his estranged twin, Jason, today. This will lead to us wondering all weekend if they will ever find a way to be friendly and love one another, but we do doubt it. There's not much else we can do but sit back and wonder if this will go well.
You see, Jason has a warning for his brother. He is under the impression that Drew needs to watch out with this new friendship and back off of it because things are not what they seem. And what happens when you tell someone they need to watch out and stop spending time with someone? Well, they don't always listen and sometimes things get a little worse. That's not going to bode well for any of them, and we have a feeling this is going to become one of those situations in which we have more issues to work through than we can imagine. We know this won't bring them closer now, but perhaps when things go wrong it will make them want to be better?
Stay tuned for more General Hospital and be sure to check out TVOvermind daily for the latest General Hospital spoilers, news, and updates.