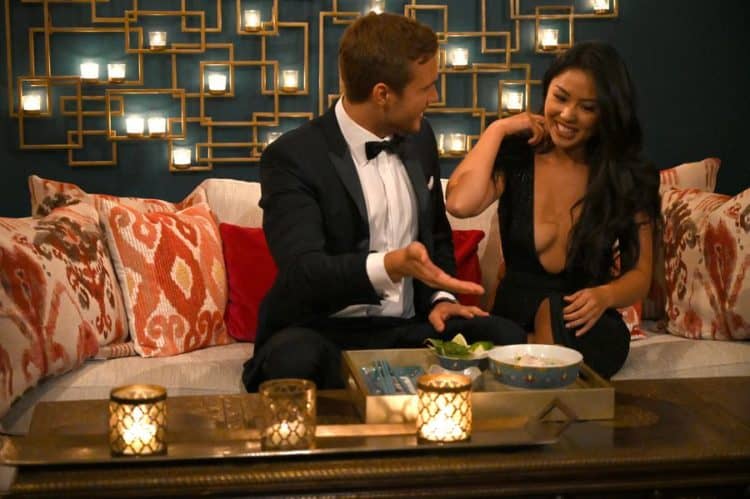 Jasmine Nguyen can feel the biological clock ticking and wants to settle down as soon as possible if she can find the man of her dreams. She hoped that she would be lucky with Peter Weber on "The Bachelor," but she goes home in the third rose ceremony. Her brief time on the screen has already attracted many fans who are wondering what more there is to this girl from Texas. Here is everything you need to know about the client relations manager whose worst fear is having a wardrobe malfunction in public.
1. Her turn-offs in men
No one is perfect, but there are some traits that even your girlfriend will not stand no matter how much she confesses she loves you. Jasmine, for instance, at 25 years old, is ready to start a family. Therefore even after dating her ex-boyfriend for three years, she dumped him the minute he said he is not interested in having children. She also hates lazy men who do not mind spending an entire day playing video games.
2. Her ideal man
While laziness will turn Jasmine off, she is so turned on by a man who can buy her Chick-Fil-A on any Sunday that by the time he comes home, she will have a ring ready to propose to him. Of course, that is just impossible considering that every Chick-Fil-A restaurant is closed on Sunday. Another thing on her checklist is one who can help her build a table. Moreover, Jasmine is looking for a person with integrity, loyalty, and honesty.
3. She hopes to set the pace for the Asian community
Looking for love on reality television is not something that most cultures appreciate, but Jasmine believed by being in the show, she was setting the pace for other Asians to feel comfortable. One fan messaged her, saying that Asian women do not get the opportunity to be on television; hence seeing Jasmine reminded her of the feeling she got watching Mulan for the first time. Jasmine responded by saying that it is the high time that Asians know they have a place in the television industry; she encouraged the fan saying that no one should look down on her based on how she looks.
4. She already has fans rooting for her
Jasmine has shown her true self, and fans are falling for her. The fact that she responded to someone's message was a sign of her humility, considering that celebrities might ignore your request to take a selfie with them. In this Reddit thread, people commented on how great she looked on the first night, some going ahead to compare her to a Disney Princess. Fans were disappointed that the starlet did not get much screen time but hoped that the producers would reconsider.
5. Her best friend
Whoever said a dog is man's best friend inspired Jasmine to forge friendships with animals. She cites her dog, Gnarles Barkley as her best friend forever. She even posted on Instagram about five months ago that Gnarles was celebrating his fourth birthday and it would be their best year yet. Jasmine never forgets her golden retriever's birthday because even when he was celebrating his second birthday, she still announced on Instagram.
6. She hopes to return to Vietnam
The reality star is very family-oriented, according to a friend who talked to Pressreader. Her family has not left their Vietnamese culture but, instead, incorporates it in their lives every day. As a result, Jasmine is not only fluent in English; she is fluent in Vietnamese too. Her love for the traditions is so important to her that before she starts family, Jasmine wants to return to Vietnam to perhaps pay tribute to the country that has impacted her life so much.
7. She is a Coder Camp alumnus
During her junior year at the University of Houston, Jasmine took a break for a semester to try her hand in coding. At the time, she was dating a guy who went to Coder Camp, so she knew what it entailed. Before then, her interest in programming was nonexistent despite growing up in a family of developers and programmers. However, she still knew basic JavaScript, CSS, and HTML, having been taught by her family members but had never thought about exploring coding farther. She joined the camp to learn more about .NET because she felt the programming language was in high demand in Houston.
8. She comes from a single-parent family
Like most of the other contestants, Jasmine also was raised by a single mother. It was not easy for her mother to raise two girls on her own as Jasmine revealed to Course Report. The primary reason she had to take a semester off from university was that her mother could not afford tuition for both her and her sister. Consequently, Jasmine was leaving to start working and help out but hoped that she would eventually go back to school. After her Coder Camp experience, she was hoping to land a junior front-end developer role.
9. She has been in bikini fitness competitions
Jasmine has a trim figure that most women would kill for, and she knows it hence has tried making the best of it. Her friend said that Jasmine has always been athletic, and she has been in bikini fitness competitions for several years. She does not divulge whether she ever won any of the contests but probably not since we like flaunting our success.
10. Her hobbies
In her free time, Jasmine likes to take a relaxed walk along with her best friend, the golden retriever. She especially likes nature walks where there are lots of trees. The contestant also enjoys reading, thus attending book club meetings will make her afternoon. Jasmine does not mind climbing rocks, and her kind heart has seen her volunteer in church every Sunday; of course, for someone who is living to meet her maker, participating in church activities is expected. Jasmine also knows her way around the kitchen and will whip up a nice Vietnamese meal in no time. Finally, she always has her bags packed since traveling also is among her favorite things to do.