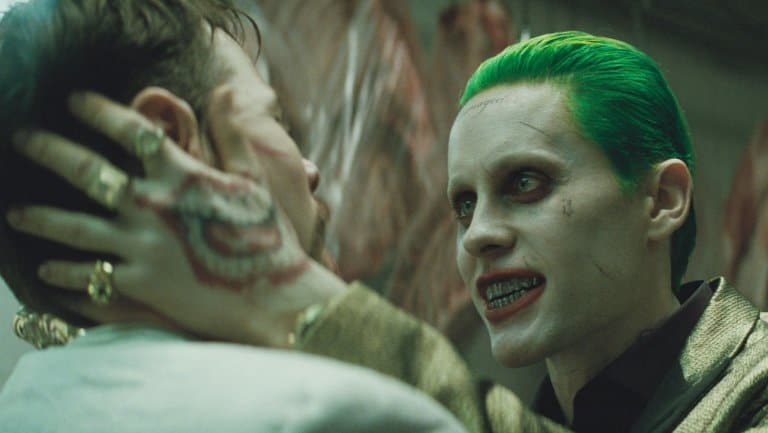 Was anyone really all that annoyed with Jared Leto's take on the Joker? Well the obvious answer is that yes, some people were VERY annoyed since he seemed to take the character and run with it in a direction that just wasn't expected and in many ways was more like the Joker's wayward son than the actual villain that a lot of us grew up with. Now keep in mind the Joker's never been a stable character. He's as chaotic as they come, but his sense of style has almost always leaned towards the professional look when it comes to the movies. He's almost always worn a stylish suit and presented himself with a certain sense of flair and professionalism that Jared's version didn't quite touch upon.
Yes Leto had a definite sense of style and pizzazz, but he went so far out in left field to obtain his look that it kind of turned away from the classical version that so many people are used to. The green hair and red lips were kept, as was the maniacal attitude, but the tattoos, the bling, and the clothing kind of detracted from the whole idea of the Joker. Then there was the idea that he was more like a mad-dog killer than the criminal mastermind that he'd always been seen as. His relationship with Harley was at least somewhat intact as he was as abusive as he could be but still maintained that he needed her around, just as she needed him.
Suicide Squad
But apart from all that is the fact that Leto seriously deviated from what people were expecting of the Joker. To be fair he had a lot to live up to if you consider who he's following. After all, Jack Nicholson set the bar pretty high back in 1989, and Heath Ledger only upped the ante in The Dark Knight in 2008. So to be honest he had a long ways to go to really do anything different, but instead of climbing the mountain he went off in another direction and seems to have gotten lost in the deep dark forest that is the mind of the character, a place that a lot of people wouldn't dare venture even if they had a map and a compass to guide them.
Batman
You have to admit that Nicholson was a lot more playful and a lot less dangerous than some versions of the Joker. He had his malevolent side for certain but he was also a showman and more of a big kid when he was playing with his toys. Plus the menace that Jack Nicholson is capable of just doesn't have that same edge that Leto or Ledger had. In many ways Tim Burton's film kind of had a more comical edge to it than most and seemed determined to keep things a little more campy. That could be why his efforts never extended past a second movie, which was just a horrible flop. Plus Burton wound up killing off the Joker, which to many fans was a horrible mistake since Batman and the Joker have been doing this dance for so long that one or the other kicking off just doesn't seem like it's a good ending to the story.
The Dark Knight
In stark contrast to Nicholson, Heath Ledger went as dark as one could go for this role. In fact you might even say that his performance still edges out Leto for sheer insanity since his portrayal as the Clown Prince was so absolutely terrifying that many people could barely believe it was him. The only problem with this was that Ledger went so far into the character that he didn't seem to able to step out of it after a while. Some alluded that he was attempting to one-up Nicholson while others stated that he was simply trying to find a new way to present an old character. One thing about the Joker is that for as long as he and Batman have been around, the Joker has never seemed to age. While this can be explained by comic and movie magic, it's still an interesting characteristic that as Batman ages, the Joker stays pretty much the same.
But getting back to Leto's interpretation of the Joker, it's not so much that he's bad at it, it's the fact that like many others he's trying something in a new way that people are not used to. Many people are unwilling to deal with change on this level, especially when it flies in the face of something they've known for so long. In the grand scheme of things the character of the Joker and how he's portrayed is not that big of a deal. But when it comes to movies, comics, and how one of the more iconic characters is presented people want a good accounting of a favored villain, and Leto still seems to fall far from the mark.