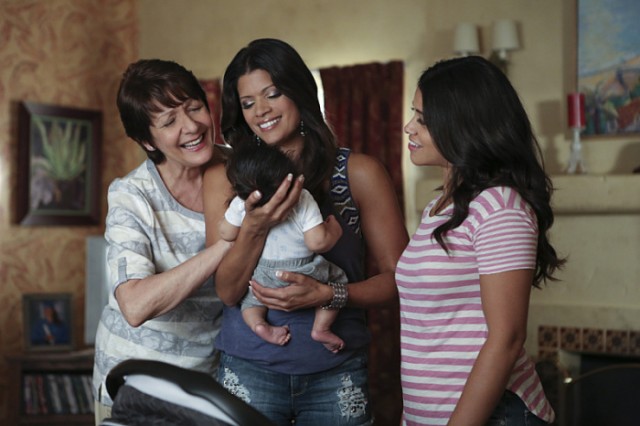 After last week's slow-moving emotional roller coaster, Jane the Virgin speeds up its timeline a bit. Milestones are the theme of the week, and so this week, time moves along to mark the important moments in Jane's life.
Jane and Rafael put their differences aside so that they may begin planning for Mateo's estate. Jane is floored when she hears how much Mateo stands to inherit. She thinks that somehow this money will turn her son into a Latino mini-Kanye West. Now, a month goes by while Jane and Rafael try to work out the terms of Mateo's trust. Money becomes a rather silly problem to worry about when Jane and Rafael find out that Mateo will need to be fitted for a helmet to correct a defect with his head. It's a side effect from Mateo being on his back too much, which Jane is guilt-ridden about because this is how she has leaves Mateo while she is busy writing in grad school. Another month goes by, and Jane feels even guiltier when she figures out Mateo now prefers to be bottle-fed than by her. Being pulled in two different directions is too much for Jane. When she falls asleep in class, her professor puts her on academic probation. Another month goes by, the combination of stress and exhaustion make Jane sick.
Interestingly enough, here's where things start to take a turn for the better. Firstly, Rafael, who has been casually dating another mom from Mateo's baby class, realizes he'd rather take cranky Jane any day. Secondly, Jane and Rafael finally come to an agreement about Mateo's trust fund. It must be the holiday season, when peace starts blowing in, as just in time for Thanksgiving, Jane lets go of Michael and agrees to go on a date with Rafael. While I am thrilled at this turn of events, I may have spoken too soon about Jane's life taking a turn for the better. As she starts to find a balance in her life, she thinks that she has made a good friend from grad school, Wesley. However, Jane has no idea that her new friend is about to become her worst nightmare, as he has been secretly collecting information for an expose on her life.
Meanwhile, Petra is way in over her head! What with her new husband, who happens to be selling black-market grenades, she really doesn't need any surprises, like finding out that she's carrying twins for instance. That's, count them, 1-2-3 children Rafael fathered the non-traditional way. #RafaelTheVirgin indeed! This news does usher in Petra's guardian angel/devil's return. Magda helps Petra feed information about Milos' illegal activities to the Czech government to get him out of their lives once and for all. When Milos is out of town Petra and Magda try to get rid of the bombs themselves. Unfortunately, Magda doesn't pay attention to the warning about grenades without pins, which results in the loss of her hand and one of her eyes.
As it seems like her life is falling apart, Petra can't find anything to make her feel happy or prepared for the birth of her daughters. Jane earns that halo yet again when she reassures Petra that no one is ever really prepared for becoming a parent, but you figure it out as you go along. If inviting Petra to Thanksgiving dinner later doesn't get Jane nominated for sainthood, I don't know what will. Maybe if Jane and Petra become closer, Petra will finally have someone sane on her side, as opposed to her hook-wielding mother who shishkabobs Milos' right-hand man (no pun intended).
Like his daughter, Rogelio has to figure out how to start fresh. With his show, The Passion of Santos, having wrapped production, Rogelio tries to figure out a new direction for his career. His idea for a Spanish-speaking Mad Men goes bust quickly, and not just because he gets slapped with a Cease and Desist order. Furthermore, Rogelio's best buddy doesn't have a great couple of months either. Now suspended from the force, Michael has thrown out the rulebook. It turns out he called Nadine after he was fired so that she could help him find Sin Rostro. We don't really hear much from him in the next couple of months until he resurfaces in the police station in late November.
Was Jane the Virgin's time lapse a good choice to progress various storylines?
[Photo credit: Scott Everett White/The CW]