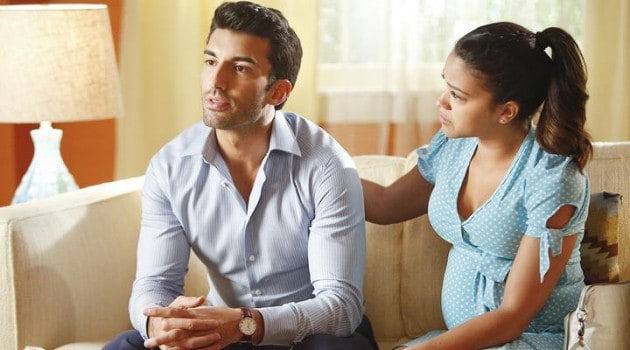 This week on Jane the Virgin, several relationships struggle to stay afloat, and a traitor in the least likely place is revealed.
After Jane and Rafael's heartbreaking break-up, Jane is devastated. Or rather she was, or would be, if she actually decided to accept the break-up. In the midst of her friends trying to throw her a baby shower, Jane decides to fight for her relationship (side note: if all of us worked through the break-up stages that quickly, we'd probably be better off). After finding out that Rafael had a confrontation with his mother, Jane convinces Rafael that if they love each other they should try to make this work.
Cue Nia Vardalos, who guest stars this week as Jane and Rafael's couple's counselor. Even she is stunned by the circumstances of her clients' lives, yet still manages to understand and advise them on their problems. First step, get Rafael and Jane to a point where they both wholeheartedly agree to do the work for their relationship. The baby shower pretty much does this for them. Second step: tackle intimacy issues, to which Jane responds by suggesting skinny dipping with Rafael. Some harmless fun turns into a very passionate encounter that, quite frankly, had my eyes bugging out in shock. Our heroine, chaste Jane, was ready to give her virginity to Rafael, until they were interrupted by a security guard; that's awkward.
Once the morning has come and both Rafael and Jane have had time to think, they realize it would have been a mistake to go through with it, but they both end up in different places as a result. Jane still doesn't want to lose her virginity before marriage, but concedes that she loves Rafael enough to move in with him. He permanently breaks up with her, claiming he's not as in love with her as he thought he was. It's revealed to the audience that this is the classic "I'm giving her up for her own good" scenario, which never ends well.
Since Jane is deeply preoccupied with her problems with Rafael, the one person she should not have to be worrying about is stalker Andy. Once Andy realizes that Jane knows all about her, she crashes Jane's baby shower to beg her not to tell Michael. There are a lot of foul words and indignations I could use right now, but I'm just going to say Andy has some nerve. Nevertheless, she fesses up to Michael. Not ten seconds after hearing about Jane and Rafael's break-up, Michael texts Andy to tell her he can't see her anymore. Sorry, I'm #TeamRafael all the way.
Jane's parents are going through their own problems, too. Rogelio feels that he and Xiomara are destined to become a power couple, but any excitement she could feel is overpowered by the guilt that she shared a kiss with her ex-boyfriend. It only gets worse since Rogelio is so adorable planning his future with Xo and serenading his daughter and grandchild. There was a slight hiccup in that Jane's writing teacher ended up having a messy romantic past with Rogelio, and she comes onto him. Rogelio is completely honest with Xiomara about this, which gives her the confidence to tell him her own truth. Rogelio is not nearly as gracious, and promptly kicks Xo to the curb.
Relationship troubles are one thing, but Petra is in a world of life or death trouble. Kidnapped by Roman and trapped in the Everglades, Petra will do anything to be free of her captor. After sleeping with Roman to get his guard down, Petra calls Michael for help. Never fear Petra, Michael is on the case! Unfortunately, he gets there too late, as Petra has already impaled Roman; talk about irony. Michael may have saved her, but at the end of the day Petra is alone, and so decides to reach out to her mother. This may not have been the best move, since Alba recognizes Petra's mother as the person who pushed her down the stairs. We should all be preparing for a showdown next week, literally. Also, Michael manages to get a career-changing flash drive out of Petra's ordeal, only to find his partner's name on the list of Sin Rostro contacts. He gives her a head start, but this may be the last we've seen of Nadine.
Anyone else devastated by the Jane and Rafael break-up?
[Photo via The CW]