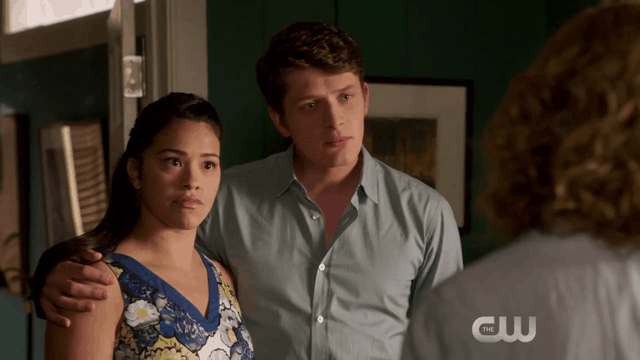 Everybody has their opinion on everything this week on Jane the Virgin. Comments ranged from Jane not being good enough to Rafael's brother being genuine. Everyone is subjective though, so it was up to the characters to decide what they were and weren't willing to handle.
With Jane's wedding coming up, every detail needs to be perfect. Jane is really hoping to work out details like the seating chart, not Michael's disapproving parents. Usually they can't stand each other, but now they are united in a common goal, interrogating Jane. After Jane broke Michael's heart last year, they don't want to see him hurt again. Michael doesn't put up with his parent's attitude for very long, demanding they show the woman he loves respect. As much as she wants Michael's parents to like her, eventually Jane realizes that it only matters that Michael loves her. Another person who doesn't care for Jane this week is her new advisor. She prides herself on being highly intellectual and despises romance novels. Jane doesn't get her new advisor's overwhelming approval, but does get input on progressing, so that's a start.
There is so much going on with Jane that it takes her forever to figure out how suspicious it is that her father hasn't responded to the news of her engagement. It is really frustrating that up until this point no one figured out that Rogelio was in very serious trouble. Never fear, Michael to the Rescue! Rogelio is rescued by his future son-in-law and Lola goes back to jail. Rogelio goes right back to work after his ordeal. He says he won't discuss his kidnapping because he's waiting to disclose the details in an exclusive interview with his dream journalist, but he can't even talk to Jane about it. When he's about to do the interview, Rogelio just can't move forward. His agent calls Jane, who immediately runs to her father's side. Rogelio is finally able to let out all of the fear he felt that he would never live another day, which helps him move forward.
Luckily Rafael has his hands full with new twins Anna and Elsa, not to mention the appearance of his long lost half-brother Derek, to worry about Jane's wedding. First, let's tackle the long-lost brother. Still working with the police, Rafael approaches his brother with caution. However they bond when Derek reveals that he spent time away from Miami alone to ponder his mother's evils and why he didn't know the truth. Rafael chooses to believe that his brother is being genuine, but time will tell. Petra buries herself in work to avoid spending time with the twins. The idea of being a mother is very different from the reality, and Petra isn't sure she's up to the responsibility. Rafael assures her that she is though. Hopefully this is the beginning of Rafael being able to bring his family together, minus the drug-dealing mother.
When you can't fix your own problems so easily, it's nice to distract yourself by focusing on others. Jane and Xiomara invite Alba's first love Pablo to town. This is the exact opposite of what Alba wanted because she believes the man is cursed. Nevertheless he came all the way from Venezuela, so it would be rude of Alba to not at least go out with him once. This proves to be disastrous, as The Curse of Pablo Alonso Segura comes true and a pipe bursts in the middle of the Villanueva living room!
Anyone get the idea the busted pipe will be a major buzzkill to the wedding plans?
Jane the Virgin Season 2 Episode 15 Review: "Chapter Thirty-Seven"
Summary
Tonight Jane the Virgin covered people-pleasing, moving forward, and what happens when you don't take a curse seriously.