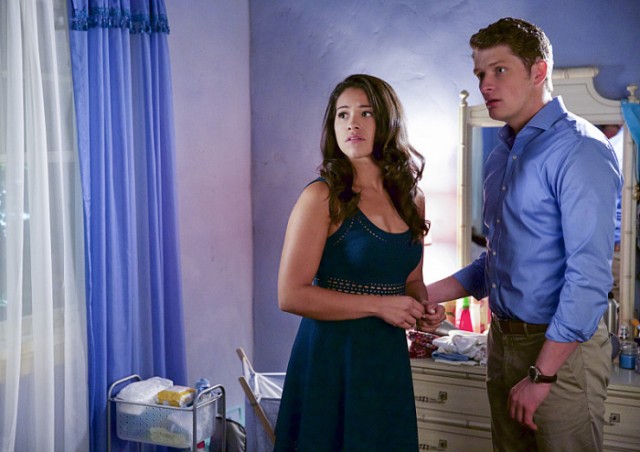 Motherhood is a balancing act that is going to continue to be explored on Jane the Virgin. If anyone can handle the challenge, though, it's our Jane.
Jane's life has become a big ball of drama on top of the stress of new motherhood. Things change when you become a mother, no doubt about that. Everything else takes a backseat, as it should, but it doesn't mean that you can't still value the people who are there for you. When Jane forgets Lina's 25th birthday, which she promised to plan a party for, she has to scramble to organize one at the last minute. The Great Gatsby themed party barely gets a dozen RSVP's, leaving Lina very hurt. Jane apologizes and the two celebrate by recreating their talent show performance to Nelly's "Hot in Here." That's friendship.
A girl needs her best friend if she's going to navigate her love life. After her smooch with Rafael, Jane is even more confused so is still stalling on making a decision. Since Jane is still unsure of what she is going to do, Rafael wants to make at least one part of their relationship clear. He asks her for joint custody of Mateo and is less than thrilled when she gives him pages of instructions on how to take care of his son. Clearly the love is on shaky ground. Michael may be in love with Jane, but he still wants Rafael and Jane to be good co-parents, and he wants his own sanity. He intervenes in a fight between them and subtly tells Jane that she needs to make a decision. It forces a tearful Jane to admit how much motherhood has changed her and how exhausting it is to put all her energy into it that she doesn't have enough left to make a decision about her love life. When she and Michael end up kissing later that night, she realizes Michael is the one for her. Unfortunately, Rafael overhears her telling Xo this on the baby monitor. My #TeamRafael heart is hurting right now.
Petra's meddling and scheming aside, Rafael recognizes that she is still carrying his child. Petra is scared to death of raising a baby alone. Rafael assures her that just because they are not together doesn't mean that she shouldn't be able to be happy to be pregnant. Petra had a difficult time getting pregnant even when they were happy together, so this baby should be considered a miracle. So she is happy, until her ex Milos shows up to blackmail her into marriage.
Michael is on Sin Rostro's trail chasing down a lead from Switzerland. He and his new partner Susanna Barnett ask Rafael to bring Rose's ex Heidi, a yoddler from Switzerland, to the hotel so that they can question her about Rose. In a land no one knows she is in, Luisa is spinning out as a captive. Surprisingly, her captors let her go and return her to Miami. Susanna actually proves to be very useful when she realizes Luisa's captors were discussing a Miami crime boss from the 80's, one that Rose happened to mention during her time with Heidi. Michael starts to think he can trust Susanna, but considering she was brought to Miami to investigate him, he probably shouldn't. Also Luisa finds a way to communicate with Rose, and I'm still waiting for someone to clock her over the head for thinking that she and Rose are some epic love story.
Rogelio has to explain to Xiomara that he has to hire Luciana because he's being blackmailed with a past dip into Scientology. Xo agrees that it's what's best for him to get his confession tapes back, but Luciana proves to be too demanding for anyone's liking. So Xiomara drives Luciana's trailer away with her bunnies in tow, forcing Luciana to relinquish the tapes and sign a non-disclosure agreement. At least this one chapter has a happy ending.
Is the #TeamMichael #TeamRafael tug-of-war over?
[Photo credit: Tyler Golden/The CW]
Tell us what's wrong with this post? How could we improve it? :)
Let us improve this post!