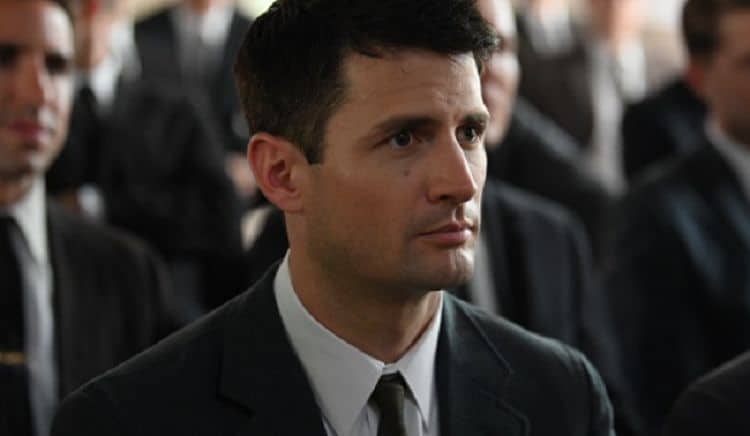 Depending on your age, you probably know James Lafferty better Nathan Scott, the character he played for almost a decade on the hit series One Tree Hill. While his days in Tree Hill have become a thing of the past, Lafferty's career certainly hasn't. Since the show's end in 2013, James has continued to work although none of his roles have been as big as Nathan. Until now, that is. James is officially back on our screens in a major way thanks to his starring role in the Disney + series, The Right Stuff. The show, which is executive produced by Leonardo DiCaprio, follows a group of astronauts known as the Mercury Seven. The role is a departure from some of the character's we're used to seeing James play, but that just means it's a testament to his versatility. Continue reading for 10 things you didn't know about James Laffery.
1. He's A Black Belt
James has always been a very active person and he began martial arts training at an early age. After years of practice he eventually earned a black belt in Taekwondo. I think it's safe to say that many of Nathan Scott's hotheaded ways went against all of the things James Lafferty learned in martial arts over the years.
2. He Was A High School Basketball Player
James and Nathan have a lot of differences, but one of the things the two did have in common was basketball. In real life, James was a member of his high school basketball team at Hemet High School in California. Unlike Nathan, however, the game didn't rule James' life.
3. He's Still Good Friends With Stephen Colletti
James and Stephen Colletti met on the set of One Tree Hill when Stephen joined the show during season season four. The two hit it off and became friends, and their friendship has remained strong throughout the years. In 2018, they even worked together to create and produce the 2018 short film, Everyone is Doing Great.
4. He's Engaged
There's no doubt that James Lafferty has been a lot of people's crush over the years, but unfortunately for those people, he is no longer on the market. James has been in a relationship with actress Alexandra Park for several years the couple got engaged in September of 2020.
5. His Brother Is Also An Actor
James isn't the only person in the Lafferty family who was bitten by the acting bug. His younger brother, Stuart, is also an actor. Stuart actually appeared in two episodes of One Tree Hill although both roles were very minor. His most recent on screen appearance was in in the 2014 movie Battered.
6. He's A Big Harry Potter Fan
One of the cool things about Harry Potter is that the franchise has touched countless people all over the world, and James Lafferty is one of those people. During an interview with Glamour Magazine, James revealed that he loves the Harry Potter movies and considers them "genius".
7. He's A Writer And Director
Acting is what made James famous, but it's not the only thing he's ever wanted to do. James has also always dreamed of becoming a filmmaker. He credits his time on One Tree Hill with helping him move closer to that goal. He directed four episodes of the show between 2009 and 2012 and he also directed five episodes of the TV series, The Royals.
8. He's An Outdoors Guy
Being in the entertainment industry for more than 20 years hasn't turned James into the type of star who's afraid to break a sweat or get his hands dirty. Instead, he actually loves to spend time doing both of those things. He enjoys being outdoors and some of his favorite activities include hiking and swimming.
9. Being On One Tree Hill Made It Difficult For Him To Find Other Opportunities
Starring in One Tree Hill was one of the best things that happened to James' career, but it also made it hard for him to get other roles when the show ended. James told US Weekly, "I'll hear through my reps that a casting director said, 'We're not seeing CW actors.' That's just something that some people say. They'll just stop you at the gate. On top of that, I 100 percent had a hard time getting back into competing for roles again and auditioning. I had gotten so comfortable in this bubble of One Tree Hill."
10. Wayne's World Is One Of His Favorite Movies
James hasn't done any comedies as an actor, but as a fan he loves them. While talking to Glamour Magazine he revealed that Wayne's World is his favorite comedy movie of all time. He added that he and his brother spent countless hours watching it on VHS when they were younger.
Tell us what's wrong with this post? How could we improve it? :)
Let us improve this post!