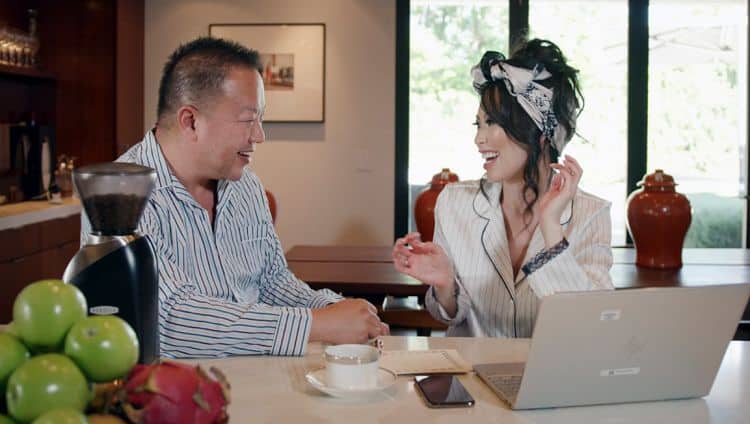 By now, you already know that Christine Chiu is one of Netflix's new reality stars. She's part of the "Bling Empire," cast, and fans are already in love with the couture queen, as she's affectionately known. She's a woman with a lot of money, a lot of drama, and a lot of good friends. She's dealing with things in her life that many people deal with no matter what their bank account looks like. She's relatable, and many people are going to see wealthy women in a new light because she's tackling a lot of personal issues that are common to everyone. It's time we see people as being more alike than different, and Christine Chiu is only going to help make that more common.
1. She's Struggling with Fertility
She might be a millionaire, but she has the same problems as so many people in every class of life. She's been struggling with her fertility, and it's left her as sad, as emotional, as heartbroken, and as stressed as many other people in the world. It's a classic example of how money cannot buy you happiness. It might be able to afford her the expensive fertility treatments that are often required when a woman deals with infertility, but even that won't guarantee her a baby.
2. Her Husband is a Doctor
Chiu's husband is a famous Southern California plastic surgeon. His name is Dr. Gabriel Chiu. He is a descendant of a long line of Chinese royalty. He's part of a dynasty – if that were still a reality in China – and their son would actually be a prince.
3. She's a College Graduate
She was born and raised in Taiwan, but she moved to the states as a young child and it's where she went to college. She attended the beautiful Pepperdine University. She has a degree in international business. She was in the beauty industry for some time when she graduated as part of the PR world, but she's moved on. She's currently working as a managing partner with her husband in their Beverly Hills MedSpa.
4. She Gives Back
Something else she's very good at doing is giving back. She knows she lives a very luxe lifestyle, but she's very happy to give back. She sits on many boards for very important programs. She even worked alongside her husband and Prince Charles – yes, the Prince Charles – to open what's called the Prince's Foundation Chiu Integrated Health Program. It's located in Scotland.
5. She Could Have Been a Housewife
While we are certain she could have been an actual housewife if she chose, we are talking about the Real Housewife franchise. There were some big rumors back in 2014 that she was in the running to join the cast in Beverly Hills, but she did not. She was spotted having lunch while being filmed with Brandi Glanville, but things did not work out.
6. She Once Decided Not to Buy a Dress Because a Celeb Had It
She's a fashion lover, but it has to be couture. She only buys from the runway, and she's never someone who doesn't spend as much as necessary on an item. She puts a lot of thought into what she's buying, and she's not going to wear if it she sees it on someone else. She's spending a lot of money on a piece, and she wants to be the only one in it. She once put a deposit down on a couture gown and decided not to buy it because Jessica Chastain wore the gown to the Oscars and she didn't want 'sloppy seconds,' though she admits couture is never sloppy.
7. She's Into Responsibility
While she may own couture gowns that cost more than most people spend on their actual house, she's hugely into responsible designers. She will pay special attention to designers who use their name for good, and she often finds she's more willing to spend money with them than other designers. For example, she's happy with the moral stance that Burberry took when they began using their showrooms and factories to make hospital gowns.
8. Couture is Art
Wearable art, of course. Chiu knows that she's spending a lot of money on items that can only be sold one time per the couture industry regulations, and she finds that it is wearable art. She attends at least 30 shows per year, and she tends to buy at least one item from each show. She loves the wearable art, and she has a collection that would make anyone green with envy.
9. She Feels Fashion Drives Plastic Surgery
One of the reasons her business is so successful is that she can use her love of fashion to predict what plastic surgery trends will become big each year. For example, she can tell based on what designers are designing what stars will be wearing, and when they are wearing things, the world follows. When they follow, they want to look more like celebs. That means they might want to start focusing on a different body part, and she can predict what body parts they will want worked on before they even know they want it worked on.
10. She's Very Down-to-Earth
She's a producer of the show, and she wants it to showcase things that are important. Sure, it shows the realities of the day-to-day lives of exceptionally wealthy people in LA, but she focuses on charities on giving back, and on the real things that go on in the houses of people like herself. She's exceptionally likeable, and we cannot wait to see more of her.