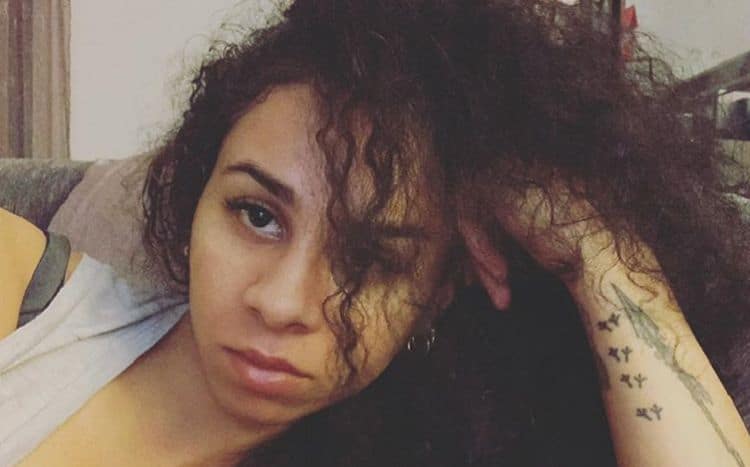 If you have ever watched NOS4A2, then you must have noticed one purple-haired character, Maggie Leigh. Her real name is Jahkara Smith, and her way to the screen was purely coincidental, unlike those who are set on becoming actors from an early age. She may not have straight teeth or hair, but her presence on the internet has been felt internationally. Here is everything you need to know about the 23-year-old:.
1. She is a social media queen
One video catapulted Jahkara into the famous person she is today. She posted "Contouring 101;" a video full of political satire but to the unassuming ear, it is just make-up tutorial. Another day she called in sick from her military job, and Jahkara posted "Getting a Man 101". People liked her videos so much that they wanted her to make more. She was getting 10,000 subscribers per day, and now her fans have grown to more than 440,000 and her videos have attracted over 20 million views.
2. She is an author
Jahkara is a multi-talented woman and is in the process of penning down her first novel. Artists Firsts, a production company that manages quality talent, therefore, represents her.
3. She uses YouTube as a form of escapism
Everyone has their way of dealing with loneliness and for Jahkara YouTube was her form of escapism as she told Hello Sunshine. When she started posting videos, she was at her loneliest. However, that is not something new to her since she has never had any stable relationships with friends. Therefore when Jahkara saw that people liked what she did, and they were also willing to talk to her, then the channel became her companion. Jahkara finds it more convenient than actual friendships since there is no pressure to exchange secrets or be best friends.
4. She grew up in poverty
No one hates living from hand to mouth, but then we cannot choose the family into which we are born. Jahkara was unfortunate to have found herself in a low-income family. While most kids enjoyed some cable, Jahkara did not have that luxury. Her only form of entertainment was movies from an old VCR after her mother got some from Family Dollar. It was even more difficult for her mother since Jahkara's father was absent from their lives, meaning the source of income was limited.
5. She was in the Armed Forces Services
Everyone has their reason for doing something, and while some join the armed forces due to their patriotism, Jahkara had only her interests at heart. Having grown up poor, she knew that she did not want to spend her adulthood being broke. Jahkara reasoned that even if she went to college and graduated, it would mean looking for employment and still struggle to make ends meet. Therefore her best option was to join the military and have a guaranteed paycheck working as a jet mechanic.
6. Her YouTube channel led to her acting career
It is all fun and games until you begin making money. When Jahkara started posting videos on YouTube, it was initially for her sister who wanted her friends to see them too. Since Jahkara had set her Facebook to private mode, she thought YouTube was better. Little did she know she was about to open doors to her acting career. One casting director noticed Jahkara's natural connection with her fans. Immediately she sent Jahkara an email explaining that even if she had never been on set, a tape was all they needed. Jahkara taped herself, sent it and in less than two weeks she was in Los Angeles for the callback. Jahkara impressed the casting director so much that she got the call telling her that the job was hers for the taking, according to Distractify. Jahkara, therefore, left the military in July 2018 and in September, she had the honor of sitting with Zachary Quinto in a casting dinner.
7. Why she chose "Sailor J" as her YouTube channel name
Children can enjoy doing something for so long it becomes an obsession that adults cannot understand. For Jahkara, her obsession was with Sailor Moon. One day when he mother took her to Family Dollar, Jahkara picked Sailor Moon. She did not know what it was but ended up watching it for so long that the VCR broke. While no one in her school wanted to play Sailor Moon because they probably did not understand what she was talking about, Jahkara found someone who shared her obsession in middle school. She realized that there was not just a movie but an entire television show. Without cable, she watched 300 episodes on YouTube. When she put up her own YouTube channel, Jahkara paid tribute to her favorite film by calling herself "Sailor J."
8. She is married
As young as she is, Jahkara found the love of her life in Kevin Smith hence her last name. Her need to constantly fight after the military experience left her with little hope of finding a soul mate since she was not pleasant to those she dated. Luckily, there is someone for everyone, and Kevin has become her anchor in her seemingly shaky world. The couple enjoys spending time together, and in April 2018, they wrestled on the beach since both of them have an interest in the sport.
9. The meaning of her tattoos
You cannot fail to notice the tattoos on her left wrist and her chest going up to her left shoulder. Although Jahkara revealed that she was in and out of various homes as a child, she appreciates the three siblings she grew up with, saying that despite the instability, they bonded. Therefore the three roses running from her collarbone to her left shoulder are a representation of her three siblings. She also has an Arabic proverb beneath the tattoos saying she has suffered, she has learnt and has thus changed. The tattoo was about breaking free from the cycle of abuse she has undergone.
10. How she deals with depression, anxiety and manic episodes
After her military experience, Jahkara was not in her best self, and she needed a creative outlet for depression and manic episodes. She was always in a mood to fight and had to undergo therapy too. To date, her artistic attempts help her in dealing with rage and depression hence her YouTube acting. She also paints, draws and wrestles, having picked up the sport from her husband as he learned to do it.